My husband's feats of gift-wrapping extravagance have become a Christmas tradition.   One year he wrapped presents for our daughter in oversized tubes for casting concrete.  The next he built six hinged plywood boxes that, over the course of several days, coalesced to form a star.  Last year, he enclosed gifts in a tall narrow pyramid and a circular creation suspended from the ceiling.  What would he do this year, my daughter and I wondered? 
He had to be up to something.  He couldn't give up the practice cold turkey.  It was one that was hard to top, but harder still to stop.  In anticipation, my daughter and I decided to make the first move.  We'd gone to Sears and, with a salesman's help, picked out a perfectly lovely "air nail gun."  While we didn't really know what it was, H had asked for it.  He'd written it on the official "Family Christmas List," a piece of note paper taped to the kitchen wall. 
We began posting the list several years ago in response to an annual after-Thanksgiving conversation, probably familiar in many households.  Someone would bring up the topic of Christmas gifts.
What do you want for Christmas?
I don't know.  I really don't want anything.  I certainly don't need anything.
You know we're going to get you something.  You might as well give us some idea.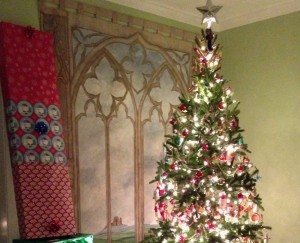 We have to have stuff to wrap and put under the tree.  After nearly twenty years of marriage, I've become as dedicated a wrapper as my husband, despite being raised in a more minimalist holiday tradition.  H's Christmas list entries typically consist of highly specialized electronics, tools or windsurfing gear for which my daughter and I can't be held responsible; we lack the expertise.  He orders them and thanks us for our consideration and generosity.  But this year, D and I actually went to a store and came home with an air nail gun.  We weren't sure it was the exact one he had in mind, but we kept the receipt.  The package was of medium size and weight.  We disguised it in an exceptionally long box, which we wrapped in three types of paper.  Propped in a chair next to the Christmas tree, it greeted H rather boldly when he returned home from work.  He was pleased to see that we were in the game.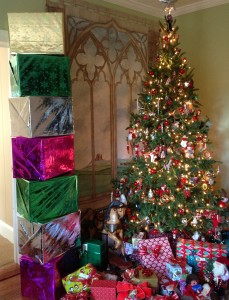 His response began a couple of days later, when a single square package appeared by the tree.  Wrapped in shiny paper, it was marked with a large letter E.   An unassuming beginning, perhaps, but one that promised more to come.  Later that night, another foil-encased box appeared atop the first, marked with another letter.  By Christmas morning, there stood, as tall as the tree, a tower of seven packages, the letters spelling out our daughter's name.  A simple, but impressive presentation.
What's in the boxes, of course, is of less importance than their visual impact and the process of unwrapping them.  Some might say it's a terrible waste of paper and not very green.  This is probably true.  But it can also be said that it's a way of focusing more on the act of giving than on the gift itself.  In this case, our family would agree on the truth of that old adage:  It's the thought that counts.  Our gift-wrapping is nothing if not thoughtful.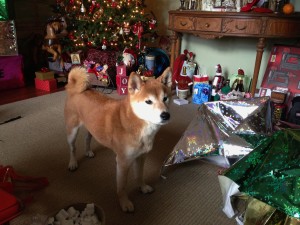 *********************************************************
Kiko, on the other hand, isn't so much into thoughtfulness or presentation, at Christmas or any other time.  For him, it's all about the smell, and he smells treats.  What happened to his stocking?  And is there more beef stick?