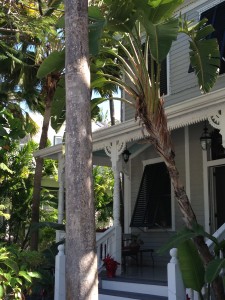 For the past several years, during family discussions of possible destinations for an after-Christmas trip, I've suggested Key West.  For one reason or another, H and D were not particularly enthusiastic.  Something changed this last December.  Maybe they just wanted to shut me up, but they agreed it was time to check out Key West.
None of us had been there.  Our sole Florida experience as a family had involved a stressful middle-of-the-night arrival at the Miami airport in an effort to beat a snowstorm on our way to Aruba.  It had not been pleasant.
I've always liked the idea of Key West.  I like remote, end-of-the-world places where the land terminates dramatically in an expanse of sea:  Mont St. Michel in Normandy, St. David's in Wales, the aptly named Land's End in Cornwall, and of course,  the outer tip of Cape Cod.  Such spots have a touch of the other-worldly, the surreal. Perhaps because of the play of light on water, colors of foliage, skies and sunsets tend to be invested with an unusual intensity.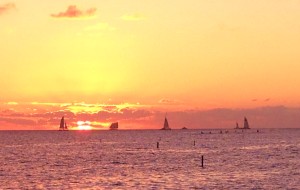 There was another reason I've wanted to see Key West.  My grandparents, who made their home on a farm in central Kentucky, had visited the Keys in the 1950s.  Grandaddy did most of his traveling via the pages of National Geographic, which he read in his big rocking chair by the kitchen window.  I can still hear the squeak of the old chair's springs.  While my grandmother flew at least once to Atlanta to visit my parents and me, I don't think Grandaddy ever set foot on a plane.  My grandparents weren't frequent travelers, but they made a few big road trips over the years.  They went to Michigan, Maine and Virginia, but it was Key West that made the strongest impression on my grandfather.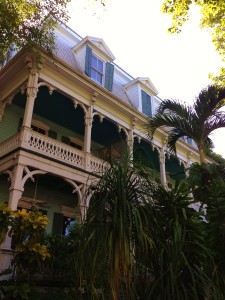 I wish I could have asked him about it. What made him like the place so much?  Of course there were no photos from the trip; my grandparents weren't camera people.   The flat seascape couldn't have been more unlike the inland rolling hills of Kentucky.  If I saw it myself, maybe I'd know. I might walk some of the same narrow streets Grandaddy had traversed some sixty years prior.  Maybe I'd watch the sun dip into the Atlantic from a spot where he and my grandmother had once stood.  I'd be in a place that was completely new to me, but not entirely, because I would see it in part through my grandfather's eyes.  Seems to me like a pretty good reason to travel.