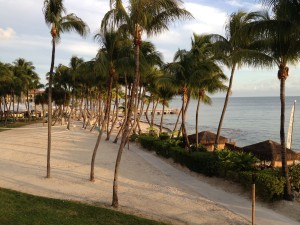 You've probably heard what a life-enhancing pleasure it is to drive from Miami down to the Keys.  That Route 1A drive is a perennial bucket list favorite.  You know the comments.  You may have heard them uttered with a breathless urgency and a firm shoulder grip for sincerity:  You have to do the drive.  To really experience the Keys, you simply must!
And it always sounded wonderful.  That the Keys are reachable by road strikes me as a near miracle.  Yes, I could see our family cruising along that narrow ribbon, the Overseas Highway.  We'd shoot South, South, South, warm wind in our hair, the glistening blue Atlantic stretching out around us.  We'd drive until we could go no further, and then we'd look across the water toward Cuba.  Yes, we must do that drive.   But first we had to get to Miami.
Our trip began inauspiciously.  We were running a tad behind schedule when we arrived at Dulles Airport.  The agent at the counter eyed us pointedly, looking as though we'd slighted him in some malicious way.  He rolled his eyes, sighed mournfully and scolded:  You better hurry if you want to make your flight.  My husband, who travels frequently and was certain we had more than enough time, was silently indignant.  Of course, when we reached the gate, we had plenty of time.  There's always ample time, it seems, to wait at the gate for boarding. 
The flight to Miami was, thankfully, uneventful.  At baggage claim, my bag and H's were among the first to plop onto the carousel.  We waited, and waited, but there was no sign of our daughter's suitcase.  You know the thought process:  No need to worry; it will appear soon.  Let's be patient.  Then suddenly, patience is serving no purpose.  There's clearly a problem.  Everyone else from our flight has picked up their bags and moved on. 
We moved on to the lost luggage counter.  After some investigation, the agent told us that D's bag seemed to be on its way to Los Angeles.  Or somewhere else.  Definitely somewhere besides Miami.  My husband suspected foul play on the part of that snippy Dulles ticket agent.  He imagined the man's spiteful thoughts:  This will teach you to be on time!  I'll send your daughter's blue paisley roller bag on the ride of its life!  And you, Sir, are responsible!
D's bag would be tracked down and retrieved, the luggage lady assured us.  And it would be delivered to our hotel.  D was crestfallen, of course.  She'd packed her suitcase so carefully.  Each item had been thoughtfully, painstakingly chosen.  It had taken all day and had been accompanied by much hand-wringing and stress.  I understand.  Every time I pack, this thought loop runs through my mind:  Is it really worth it?  Can't we just stay home? I don't have room for all these shoes! Should we pack rain jackets, or just hope for the best?  I can't take it.  I think I'm getting sick. 
As we packed, D and I had discussed the dreaded "what if" of a lost bag.  It had happened to H during a Caribbean vacation.  He'd worn the same long-sleeved white T-shirt for several days straight, prompting comments by some of the staff at the resort.  When his bag finally appeared, it had apparently gone on its own adventure to Managua.  We knew a missing bag was a real possibility.  D had packed essentials and a minimal change of clothes in her carry-on. But still.  All those well-considered fashion choices, all lost, at least temporarily.  I would have been equally disappointed when I was a few days away from turning sixteen. 
There was nothing more to be done, so we headed to pick up our rental car, located in an area that seemed many miles from baggage claim.  The queue at Avis stretched from one end of the enormous rental car center to the other.  This couldn't be the line for those with reservations, could it?  Oh, yes, it was, we were quickly told by those already waiting.  Surely the queue would move quickly, H reasoned.  How long does it take to pick up a rental car once the paperwork has been completed online?  Three minutes, max! 
Apparently, for many it's a complicated process that requires fifteen to twenty minutes of heated conversation and problematic inquiries.  From our fixed viewpoint in the queue, we took to timing the interactions between customer and agent.  H, speedily efficient in all things, was incredulous.  What in the world was going on?  What kinds of questions were people asking?  Can you explain, in detail, how to drive a car?  How does one refill the gas tank?  Where are these so-called gas stations located?  What is insurance?  Would you please review again the rules of the road?  And where is the road?  Judging from the frequent arm motions, extensive directions were being given and repeatedly misunderstood.
Other rental car agencies had no lines.  This was because they had no available cars, we learned.
An hour later, we had reached the velvet ropes that indicate the expected start of the line. When at last we approached the counter, I began timing.  H was right.  Two and half minutes later, we were on our way to pick up our car.  Surely, things were about to get better.