My husband trimmed some of our trees a couple of weeks ago.  I couldn't bear to see the cut branches simply tossed away, so I gathered them and put them in water.  When we left last Tuesday to visit my parents in Atlanta, the branches were a stark  study in brown and gray. 
When we returned on Easter night, the branches were no longer bare.  On the lilac cuttings were delicate green leaves.  Tiny bright fuchsia flowers adorned the redbud branches.  What had appeared to be dead had bloomed with new life. 
And here it is, God's Easter promise, as clear as the blue sky on this gloriously warm and beautiful spring day.  The cruel cross has become the tree of life.  Because of the unimaginable sacrifice of our loving God, death's power has been defeated.  The gates of heaven are open to all who thankfully accept the priceless gift of grace.  Let us rejoice and be glad!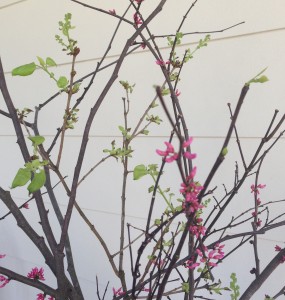 Now let the heavens be joyful!  Let earth the song begin!
Let the round world keep triumph, and all that is therein.
Let all things seen and unseen their notes in gladness blend,
for Christ the Lord hath risen, our joy that hath no end. 
–The Day of Resurrection
words: John of Damascus, trans. by John Mason Neale, 1862
music: Henry Smart, 1835