Roam just about anywhere in Key West's historic district, and you'll pass one appealing building after another.  Here are some that caught my eye.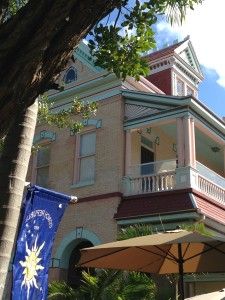 The Southernmost House, a yellow brick mansion trimmed in pastel candy colors, was built 1896 by the daughter of Key West's first millionaire.  It's now a beautifully restored luxury inn.  "Southernmost" is an adjective that runs rampant in Key West.  In addition to the Southernmost House, local resorts include The Southernmost Hotel and Southernmost on the Beach.  The Southernmost Point (in the Continental U.S., 90 miles to Cuba) is nearby, marked by a painted concrete buoy.  You'll know you're close when you see the line of tourists waiting to be photographed by it.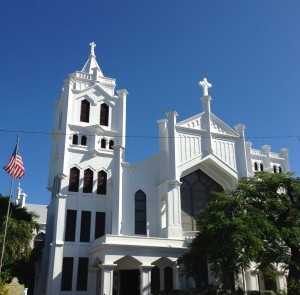 The first St. Paul's Episcopal Church was built in 1831.  Fire and hurricanes destroyed it and two later incarnations.  The current church, a hybrid Gothic-Art Deco confection painted pristine white, was completed in 1919.  Inside, you'll find beautiful stained glass windows and an oasis of calm in one of the busiest sections of Duval Street.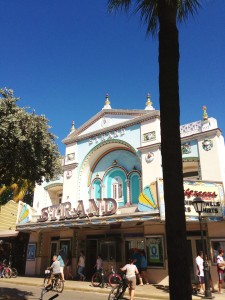 The Strand, also on Duval Street, opened in the 1920s as a movie palace.  No longer a theatre, it's been home to a nightclub and Ripley's Believe it or Not.  It was featured in the 1993 movie Matinee, set in Key West and starring John Goodman.  While the façade, which resembles a fondant-covered petit-four, remains essentially unchanged, the period interior no longer exists.  The building now houses a Walgreen's drug store.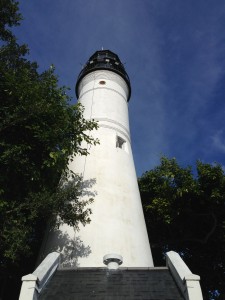 Like St. Paul's Church, the Key West lighthouse has been rebuilt several times.  Located on Whitehead Street across from the Hemingway House, the current building was completed in 1849.  The lighthouse remained in use until 1969.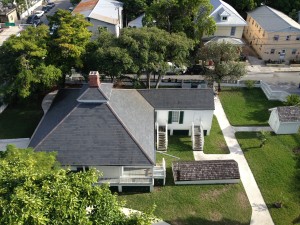 The adjacent keeper's house, seen from the lighthouse tower, dates from 1887.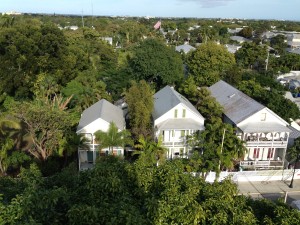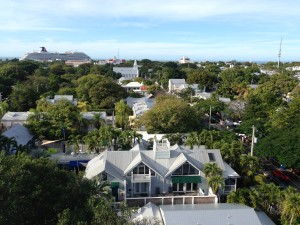 Two more views from the lighthouse.  The second photo looks toward the Atlantic, where a gargantuan cruise ship is docked.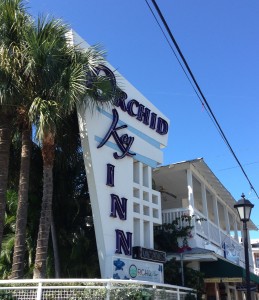 The Orchid Key Inn, built in the 50s, is now a stylishly updated small hotel.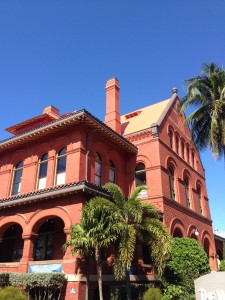 The red brick Custom House, built in 1891, is now home to the Key West Museum of Art and History.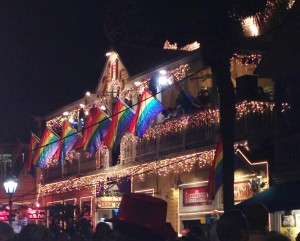 The Bourbon Street Pub glittered with thousands of holiday lights during our stay.  On New Year's Eve, we were among those who packed Duval Street to watch the pub's Annual Shoe Drop.  At midnight, the drag queen Sushi descends from the balcony in a gigantic red high-heeled pump. Had it been entirely up to us, my husband and I would most likely have avoided the crowd.  But last year in San Francisco, as we joined the throng for a phenomenal fireworks display, our daughter discovered her taste for a high decibel New Year's Eve among the boisterous multitudes.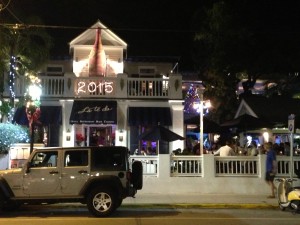 Each time we passed the aptly named La Te Da, we had the disorienting feeling of being in a Provincetown magically transported to a balmy, tropical setting.  This hotel/restaurant/entertainment complex reminds us of several in that old Cape Cod town, including the Crown & Anchor and The Waterford.  (For P-Town posts, see here and here.)  La Te Da's main building is a charming white frame house that could belong to a chic grandmother.  The atmosphere is homey, gracious and inviting.  On our final night in Key West, after a delicious dinner at La Te Da's airy covered porch, we stopped by the piano bar to hear two talented teenagers put a new spin on classic cabaret tunes.  I kept expecting to bump into Bobby Wetherbee, Leslie Jordan or Hedda Lettuce.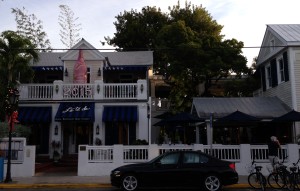 The contrast between the morning of January 1, 2015 and the night before could hardly have been more extreme.  As I walked down Duval Street around 8:30 AM on New Year's Day, all was hushed and serene.  I was reminded of Edward Hopper's paintings of small town Main Streets deserted in the early light of Sunday morning.  Not many hours after the oversize champagne bottle on the balcony of La Te Da had popped its cork and rained down confetti on a lively crowd singing Auld Lang Syne, the complex appeared blanketed in shadowy sleep.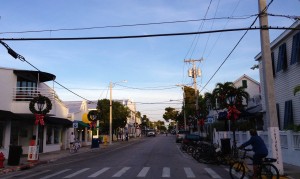 An unnaturally quiet Duval Street, on the first morning of 2015.