According to the Farmer's Almanac and calendar no-it-alls, it's still summer, for one more day.  The autumnal equinox occurs tomorrow, September 23, bringing with it the first day of fall.  I'd thought the summer had slipped away, but it hasn't quite.  A couple of months ago, I'd intended to write several posts on summer places.  But the days passed, filled with other preoccupations.  On this very last day of summer, I'll try to make up for lost time.  First up, Coney Island.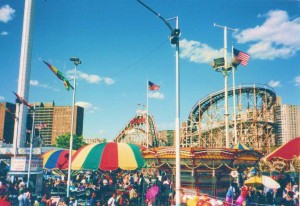 I was about five years old the first time I heard of Coney Island.   It sounded magical and exotic, an ideal, seaside summer place.   Neighbors of my grandmother in Kentucky had just returned from there, and they spoke of it in glowing terms.  It was way up north near New York City.  There were roller coasters, carousels, and a huge Ferris wheel right on the beach.  I'd never seen any ocean then.  I'd been no farther north than Ashland, Kentucky, and no farther south than Waycross, Georgia.  (Daddy's job in public health occasionally took him to Waycross, and Mama and I went with him a few times.  While it sounds like small peanuts, I remember it as a very cool place, home of the Okefenokee Swamp, a great Holiday Inn pool, and crumbling antebellum mansions.) Anyway, that family's Coney Island experience made quite an impression. I vowed someday I'd see it for myself.   
By the time I was living in New Jersey, twenty-something years later, Coney Island sounded decidedly less magical.  But I was still intrigued.  One Saturday in June before I moved back to Atlanta, H and I drove up for the day.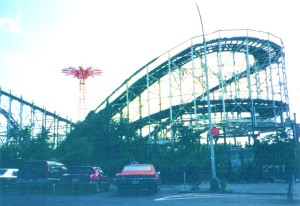 We were in H's enormous 1968 Chevy Impala SS (last car on the right, above).  I'd gone with him to Trenton in the spring to buy it for $450.  Battered and well past its prime, it was the perfect car for Coney Island in 1993.  Like the faded amusement park, it could be seen to possess an inimitable air of tough deadbeat cool.  We parked right next to the old Thunderbolt roller coaster; there were no vast, well-maintained parking lots as at a typical Six Flags.  The Thunderbolt, opened in 1925 and out of use since 1982, sat decaying behind a rusted chain link fence.  At first I thought it was the famous Coney Island Cyclone.  It didn't look safe at all.  But, on the bright side, there was no crowd.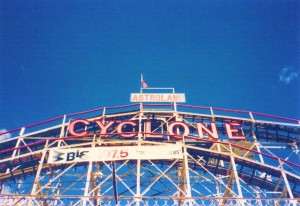 Then I spotted the Cyclone, across the way.  In comparison to the decrepit Thunderbolt, it looked positively spiffy.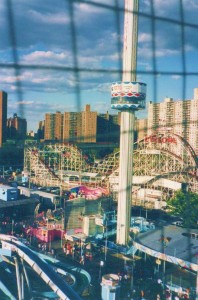 The above photo shows the Cyclone from the top of the Wonder Wheel.  The classic white wooden coaster dates from 1927.  It's not especially tall.  It doesn't look particularly impressive if compared to sky-high roller coasters of the twenty-first century. There are no full loops.  The cars don't hang upside down.  It doesn't go backwards.  It's associated with no blockbuster movie franchise.  But it is one memorable, absolutely thrilling ride. 
On that sunny summer Saturday, the queue for the Cyclone was  surprisingly short, almost nonexistent.  At H's insistence, we waited out one run so we could get the front car on the next one.  As a little boy at Seabreeze Amusement Park in Rochester, his grandfather taught him that for the complete coaster experience, one must ride in the first car.  We got in.  When the safety bar came down, I thought there must be some mistake.  There was way too much room between the bar and my lap.  In fact there was space for someone several times my size, or for me and a couple of friends on my lap.  I was afraid I'd fly out on the first dip.  I anchored my elbows forcefully into the worn vinyl padding of the bar. 
The cars lurched, and we were off, chugging slowly up the first hill.  At the top, there was that suspense-filled pause, and suddenly we were hurtling downward.  Thrillingly, alarmingly.  The first descent is banked precipitously, and I hunkered lower, dug my elbows in harder. We were back up, rounded a turn, and then we were headed down again, screaming, laughing.  It was exhilarating. 
At the end of the ride, when the little train arrived at the platform, we were laughing and wind-blown, like all the other riders.  H's shirt had become completely unbuttoned.  My bra had come unhooked.  We had been warned to secure all valuables.  According to the attendant, false teeth, glasses, jewelry, wigs and even underwear had been found on the tracks.  I can see why. 
Back then, you could stay on for another ride at no cost if you chose.  We both wanted a repeat, but we needed some time to collect ourselves, to button up, to recover from the thrill.  To prepare to be thrilled again.
Reliving the memory, I think, as I have many times over the years:  we've got to go to Coney Island with our daughter.  Not surprisingly, she's a roller coaster fan. 
Next: More Coney Island