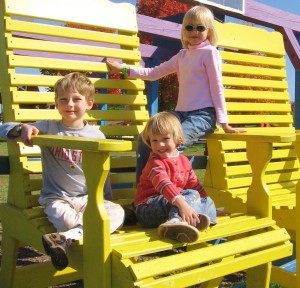 Today, we're back to sunshine.  Yesterday's continuous rain failed to wash away fall's colors; it simply spread them around with an artistic flair.  The weather is mild.  It's a perfect day to be outside, enjoying October.
It's a day that makes me a bit nostalgic for my daughter's younger years.  If she were seven or eight, we might be heading to Cox Farms after school. This family-owned farm puts on a fall festival that really is fun for most ages.  It's one of our favorite local traditions.  We discovered it with a group of friends we met through D's preschool.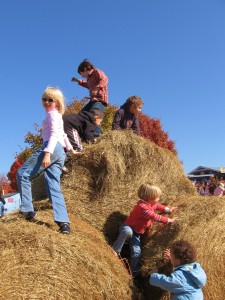 If you live in a suburban or semi-rural area, you probably have a place like this nearby.  In Princeton, there was Terhune Orchards, which my husband and I enjoyed.  If something similar existed in Atlanta when I was growing up in the 70s, we didn't know about it.  Lucky for me, I didn't know what I was missing.  Lucky for my daughter, she didn't have to miss it.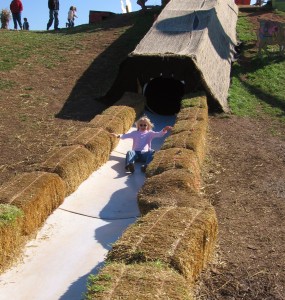 Cox Farms is a low-tech, homespun, rough-around-the-edges place, just as a farm should be.  As a preschooler, one of my daughter's favorite "rides" involved rolling down a hill inside a big pipe.  There are mischievous goats to feed, various baby farm animals to admire, a cow to milk, and lots of hand-painted folk-artsy plywood signs.  Naturally, there are pumpkins, apples, cider and kettle corn.  On weekends there might be a bluegrass band.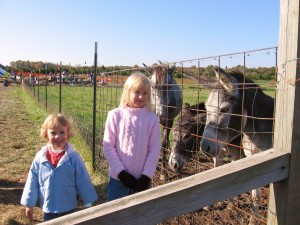 There's lots of hay: hay mountains to climb, hay bale forts to explore and tunnel through.  Of course there's a hayride, during which aliens and assorted odd but non-threatening creatures appear.  There are many slides, some of which are quite steep.  When we first started going to Cox Farms, D was afraid to attempt any of the slides on her own, so we went down them together.  That's when I found out how much fun a fun slide can be.  Apparently, I was slide-deprived (as well as fall-festival deprived) as a child. 
Our daughter's first-choice activity was the rope swing with a drop into a foam pit.  One doesn't often get a chance to brag on a child's rope swing skills, but I must say she had excellent form and always managed to sail to a far corner of the pit.  The two photos above are from consecutive years, the first in 2006, the second in 2007.  Evidently D's fall festival uniform consisted of a pink shirt and blue jeans.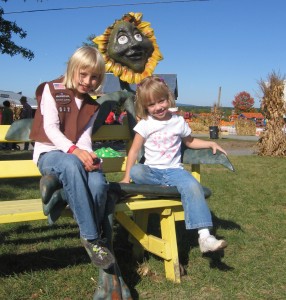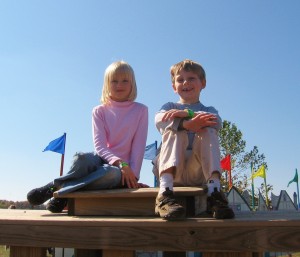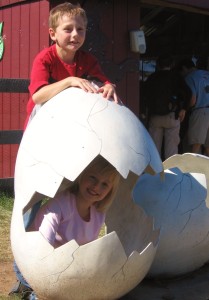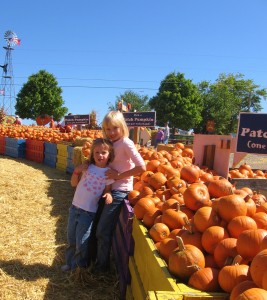 For several years when our daughter was in elementary school, we had an annual fall festival meet-up with former preschool friends, a brother and sister, and their dad.  It was one of the highlights of the season.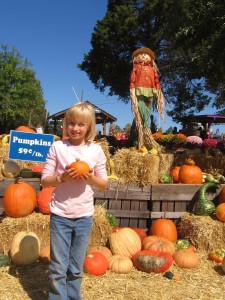 Our every visit to Cox Farms ended with the careful picking of a "free" patch pumpkin.  D has always delighted in the perfect pumpkin. 
It's been several years since we've done the fall festival.  But our daughter is now a regular attendee at "Fields of Fear," held at Cox Farms on weekend nights for older kids and adults.  It includes the Cornightmare, the Dark Side Hayride and the Forest: Back 40.  As of this year, she and her friends can even drive themselves. 
But at the end of the night, D still picks out a little patch pumpkin.