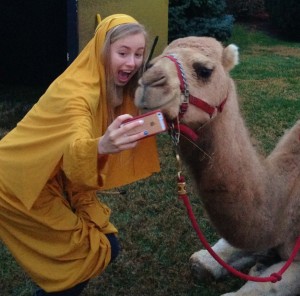 Christmas Eve is here again.  Much like last year, the day is wet, cloudy, and unseasonably warm.  It's time again for the live nativity at our church.  The baby Jesus, of course, is the real star of the show, but he's small.  The camel, however, is quite large, and he tends to be the traffic-stopper.  Last year, our camel was not Samson, who was busy elsewhere, but his colleague Zeke.  Zeke enjoyed kneeling in the mud, and he therefore appeared in many selfies.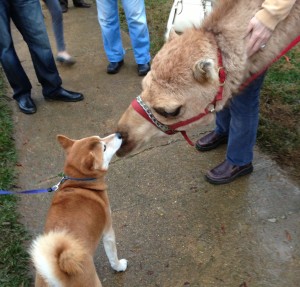 Kiko had the privilege of meeting Zeke, since the camel leaned down for a hello sniff.  The year before, Samson stood so tall and aloof that Kiko never seemed to notice him.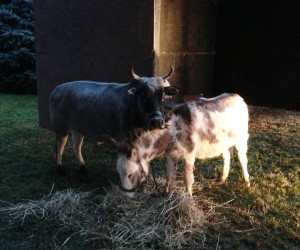 We also welcomed this little ox and burro, as well as a sheep and a goat.  I'm hoping we'll see the whole gang again today.
If you have the opportunity to experience a live nativity in your area, I advise you not to miss it.  The shepherds and kings may be rag-tag; the baby Jesus may be a doll; Mary and Joseph may be played by a teenaged brother and sister.  With luck, there will be a few real animals.  I hope you get to meet a camel, an elegant and surprisingly sweet regal creature.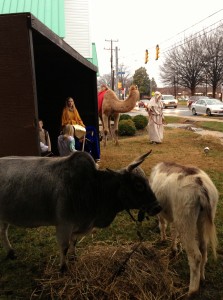 Give the humble tableau a chance, and perhaps, unexpectedly, your heart will be touched.  The make-shift nativity could speak to you of a God who turns the world upside down, who sent his own Son to live among us, in the mud and grit, to suffer and die, just as we must do, to wipe away our sin and invite us into the heavenly fold.  There is a chance that you might be overwhelmed by a sense of majesty.  Stranger things have happened, after all, on Christmas.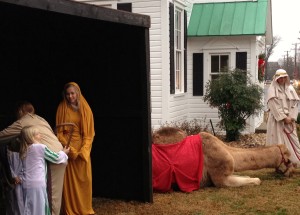 May you rejoice in the off-key songs of the tinsel-haloed angels with their awkward cardboard wings.  May you feel the power of the light in the darkness, the divine, holy light that will never be extinguished.  No matter what.  No matter what.  Amen.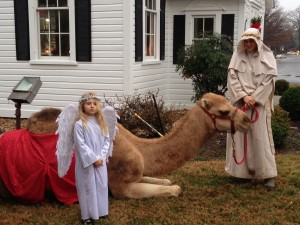 For a previous Christmas Eve post, with more about that light in the darkness, see here.