In my last post I wrote about what was, for my family, quite a lovely blizzard.  But a sudden snow two days before the storm had less than lovely effects. 
All focus was on the massive, looming storm.  Forecasters noted, as an afterthought, the possibility of snow showers, perhaps a "dusting," on Wednesday evening before the blizzard.  It was presented as insignificant, a non-event.  There seemed to be no reason to reschedule the planned Church Council meeting.  But by 6:30 that frigid evening, snow was falling in fat flakes and accumulating quickly.  My daughter observed, with some concern, that cars negotiating the sharp turn in front of our house were creeping along.  When traffic slows down here in Northern Virginia, we take notice.     
But I wasn't going to overreact.  I was no longer a novice at snow driving.  I still tend to avoid it if possible, but I've had some practice and years of good advice from my Rochester-bred husband.  When I left for the meeting, I was surprised to find myself behind a line of cars moving at a snail's pace.  Surely they were being overly cautious, I thought.  But before long, even at that slow crawl, I felt my car beginning to slide.  It was evident that the roads hadn't been pretreated; there was not a trace of salt or sand.  The trip was just short of a nail biter.  All through the meeting I kept an anxious eye on the falling snow.  How much worse could the roads get?  It probably wouldn't be that bad, I kept telling myself.
Just before 9, I texted my family from the slippery snow-covered church parking lot.  I would start for home, but I could tell it was going to be no easy ride.  It was only three miles, but over old country roads that were notoriously narrow, steep and twisting.  H and D both responded immediately.  From H: he could come get me if I'd rather not attempt the drive.  The roads were slick; they were bad on his drive home at 7.  From D: the street in front of our house was a sheet of ice covered by powdery snow.  Oh my.  I'd start out anyway, and see how far I got.  I was glad I'd worn my snow boots, dressed warmly and put a blanket in the car. 
Usually, I find that the worry over an anticipated event is far worse than the actual event.  In this case, the real thing was at least ten times as bad.  That drive home is best described as absolutely treacherous.  It was a combination of gridlock and out-of-control thrill ride.  Traffic inched along hesitantly, stopped periodically, then inched along again.  Maintaining momentum uphill was tricky.  It was difficult to adhere to one of H's most frequently repeated snow tips: increase your speed as you approach a hill.  If you take it too slowly, you'll get stuck!  Not sliding sideways downhill was nearly impossible, no matter how slow the speed.  Several times I considered leaving my car on a side street and starting to walk. 
At one narrow turn in the road, we were stopped for such a long time that I got out and picked my way along the side to see what was going on.  The car ahead of me was poised at the top of a steep, twisting hill.  The driver said she was waiting for traffic to clear, since her car handled badly in snow.  Two vehicles had been lodged at odd angles farther down the hill and were just getting disentangled.  Once back in my car, I watched as the driver ahead began her descent.  She immediately skidded sideways, but was able to maneuver back on the right track without too much difficulty.  Suddenly, she was gone.  She'd made it down the hill and up the next.  It was my turn.  My antilock brakes, fortunately, were in good shape.  Somehow I managed to avoid drifting into a ditch or a stranded car, of which there were many.  Thankfully, the car behind me gave me plenty of time to take the hill on my own.   
When I pulled into the driveway, my heart racing, H was outside waiting.  He'd been half-expecting my call for help. 
I was among the lucky ones.  My drive, though frightening, didn't take very long, and I arrived safely, my car intact.  Many drivers in the area were stranded for hours.  The beltway was an ice-bound parking lot.  Hundreds of traffic accidents were reported.  City and county governments made profuse apologies.  They repeatedly promised far better road prep for the coming storm.  
Lessons were learned, it would seem.  Well before the first blizzard flake fell, roads were treated, and plows were at the ready.  Once the snow began in earnest, the roads were relatively quiet.  Most drivers heeded the message of Wednesday night and left work in plenty of time, or never left home that morning.  I've learned a lesson:  If snowflakes are falling on untreated local roads, I won't be at the meeting.  Let's just cancel that meeting.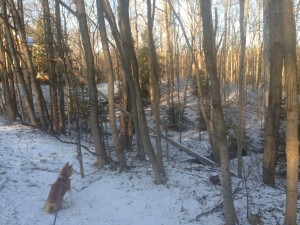 This was the snow that caused all the problems. 
It doesn't look menacing, does it?