At the end of July, our family made our annual drive from northern Virginia up the east coast, almost to the very tip of Cape Cod.  Our happy summer place is an unassuming cottage complex in North Truro.  It looks out on the curve of the bay toward the Pilgrim Monument in Provincetown.  For two weeks every summer, a little gray shingled rental cottage is our home.  Why return to the same place year after year?  Once I didn't understand.  When I was growing up, my family considered real vacations as rare indulgences.  With the exception of a few special trips when I was older, we made do with a few days accompanying my father to a public health convention in Jekyll Island, or a visit to help out extended family in Kentucky.  Had H's family been in thrall to the same sort of thrifty practicality, they never would have packed up their young kids in a cramped VW camper and driven from Rochester to the Outer Cape in the summer of 1974.  They certainly wouldn't have returned every year since.  And that would have been a shame.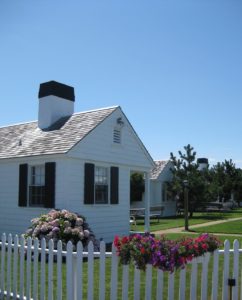 Cape Cod seems an odd fit for a couple that doesn't swim, sail, or even eat seafood.  But the unique beauty of the place casts its spell.  It gets under your skin and beckons you back.  My husband and I began joining his family there with our daughter when she wasn't quite three.  Seventeen years later, it's hard to imagine a summer that doesn't include our little piece of the Cape. 
View from our picnic table:  across the sand and the bay, the Provincetown skyline.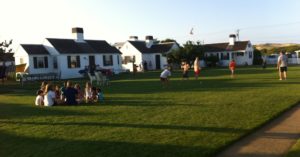 During my husband's family's first visit to the Cape, they crowded into a one-room efficiency in a Truro motel, all five of them.  (The next year there would be six, after H's sister was born.)  Quarters were tight, to say the least.  The proprietor could have been friendlier, but they chose to overlook his surliness.  When, while checking on a malfunctioning stove burner, he spoke with biting harshness to H, a meek seven year-old at the time, that was simply too much.  The Cape was wonderful, and they would return, but they would find another place to stay.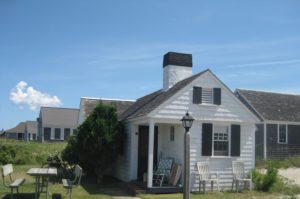 On their last day, they took a closer look at a nearby establishment set back from the bay on a particularly wide stretch of beach.  It featured white dollhouse-like cottages grouped around two neatly manicured greens.  Each house had its own picnic table outside.  The interiors were basic, no frills.  Each had two bedrooms, a living room with a fireplace, kitchen and bathroom.  Some had covered front porches.  There was a big, new, sparkling pool.  Kids were playing on the greens and digging in the sand.  Families were cooking burgers and hot dogs on the little grills in front of their cottages.  It was a relaxed, friendly place.  H's family determined to try to stay there the next year.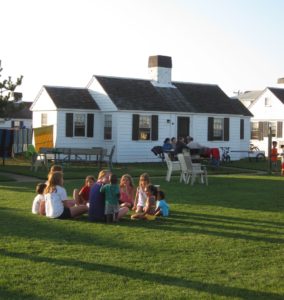 Luckily, they succeeded.  H's parents return to the very same white cottage still.  We have a cottage for the three of us, and H's sister is there with her husband and two boys in their own place.  The wide, uncrowded beach has become even wider and therefore even less crowded.  All the sand eroding from everywhere else along the bay seems to be deposited there.  Otherwise, the appearance of the family-owned complex, in the same hands since 1967, has changed little since then, or even since the 40s, when most of the white cottages were built.  The atmosphere is still that of a big-hearted summer village.  The well-maintained greens are still perfect for ball games and water fights.  Several somewhat larger cottages, with more expansive views and open floor plans, were constructed in the 80s.   These are covered in weathered cedar shakes.  Accommodations throughout are still basic.  While microwaves and WIFI were added in recent years, there is no AC.  This is not the destination for those who require high-end resort living in a space worthy of Architectural Digest.  Head to the Outer Banks or the Charleston area for that.  But for those who yearn for reassurance that the Old Cape Cod of the Patti Page song still flourishes, this is the place.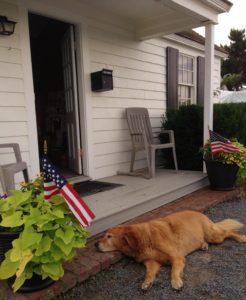 Ripley the Golden Retriever rests in his customary spot outside the office door.  He may appear to sleep, but his tail starts wagging when he senses the approach of a friend.  As long as I can remember, there has been a resident retriever keeping watch by those steps.  Before Ripley, it was Logan.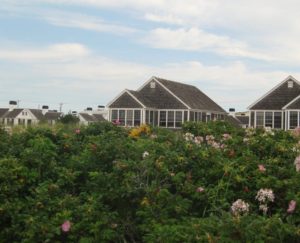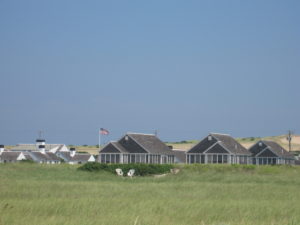 The "new" cottages, seen from the bay side.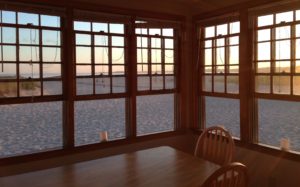 The view from our kitchen, as sunset approaches and the shadows on the sand turn blue. 
The summer village we return to every year is humble, but it offers a priceless luxury in this world of ever-accelerating change:  the illusion of timelessness.   As I've written before, the pace of change is exceedingly slow along this part of the Cape.  (See Back Again, on Shore Road in Truro, Sept. 13, 2013.)  While the light and the sands are constantly shifting, the narrow strip of land, its scrubby vegetation and unimposing, weathered buildings, like those in our  cottage complex, appear much the same, year after year.  Here, it's easy to pretend, for a week or two at least, that time stands still.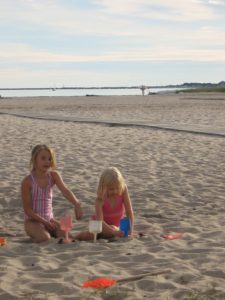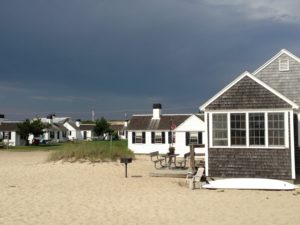 A temporary time-out. 
Time out of time. 
Or the illusion of it.
It's almost worth the drive.