It's January 7th, 2020. The Christmas season is officially over. For our family, it was a happy and busy one. We felt fortunate to welcome our daughter home from college for an extended stay, as well as to have my mother living next door. I didn't find the time for writing more than one quick Christmas post. But the message of Christmas is one to live by every day. And the gift of Christmas is persistent. It waits to be received, regardless of the time of year. So, a look back on Christmas Eve, and a look ahead, with hope for the future.
The familiar, expected beasts were all there at the nativity on Christmas Eve. There was the furry, gray-brown burrow, always a crowd favorite. The humble image of patience, fortitude and forbearance, this little donkey reminds us of the one that may have carried young Mary and her unborn child to Bethlehem many years ago.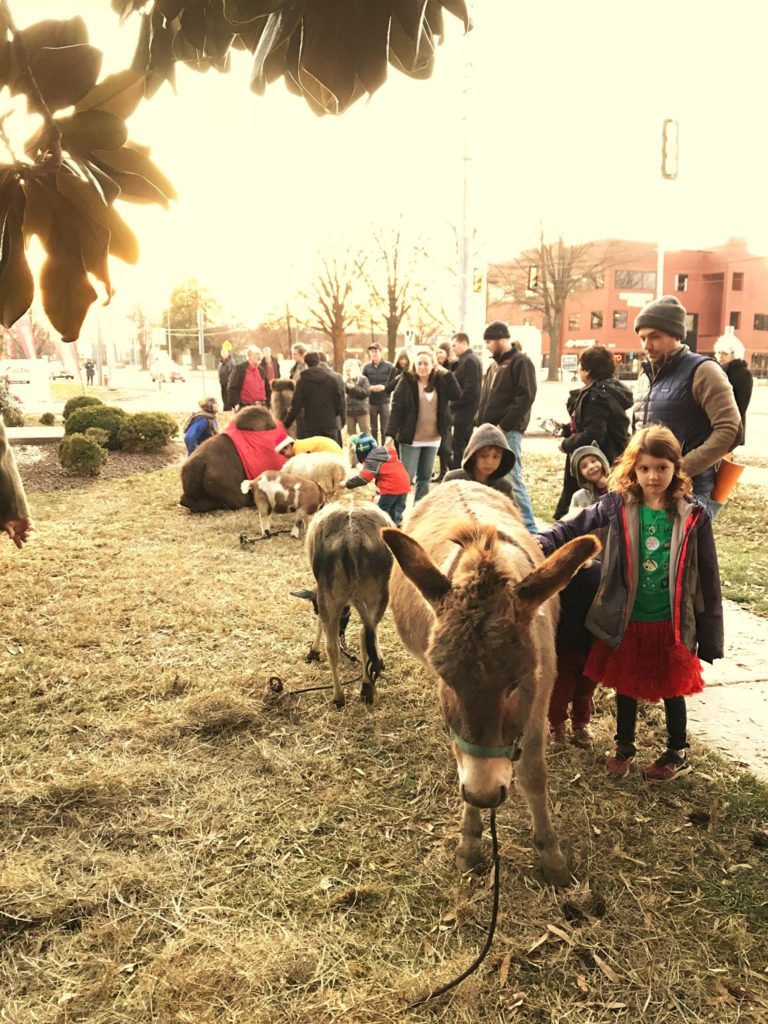 Two fluffy sheep quietly munched on hay. The two goats took more curious notice of the onlookers around them. They remind us that ordinary farm animals likely witnessed the holy birth.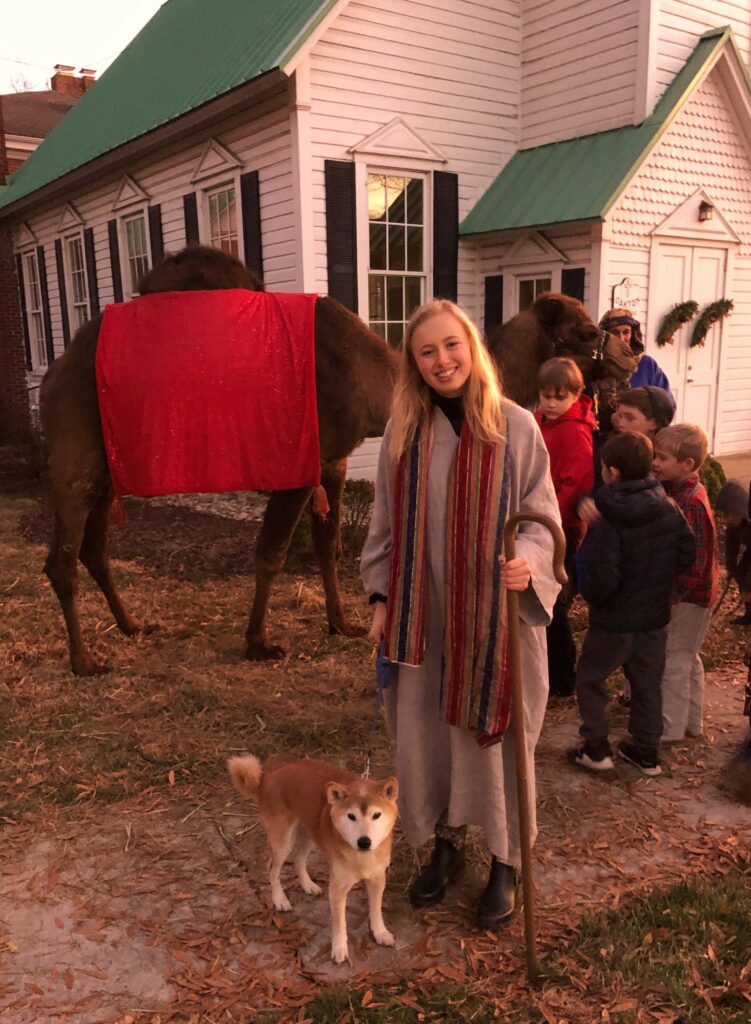 There were a few dogs, including Kiko, who was fortunate in meeting a kindly shepherd girl who allowed him to wander at will among the other furry creatures. Maybe those original shepherds brought with them a sheepdog or two? I'm not certain where the scholarship stands on this point. No shepherd would benefit from a dog like Kiko, who lacks the herding instinct as well as any semblance of a work ethic. Come to think of it, our dog's interest in other living beings is confined largely to the smells they leave behind.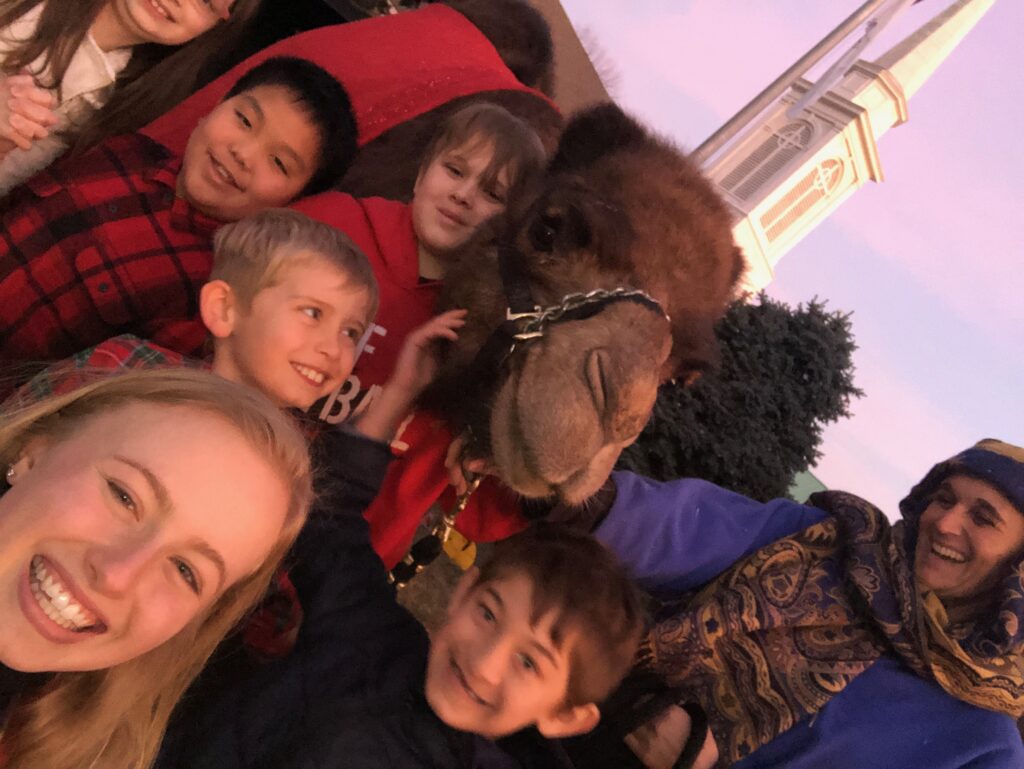 Sweet Delilah the camel, on the other hand, seems to truly enjoy social interaction with her animal companions, as well as with her human admirers. This year, as always, she snuggled enthusiastically with kids and old folks, and posed for endless pictures.
With such a remarkable menagerie so close at hand, the human presence may take a back seat at a live nativity. But those wearing the costumes of Mary and Joseph remind us that God chose to send his son to be born not to the rich and powerful, but to a couple who counted themselves among the working poor. Those dressed as shepherds recall the lowly field workers who were the first to be summoned, and by angels, no less, to receive the joyful, life-changing news of a savior's birth. The so-called Magi, like their camel, would not have made an appearance at the stable in Bethlehem. These wealthy pagan astrologers from the East arrived months or perhaps even years after the birth, when Jesus and his parents were living in some modest home, perhaps in Nazareth. But they're included in nativity scenes to signify that this baby, born to obscure observant Jews of the artisan class, is God's gift to all people, regardless of heritage or ethnicity, and to all generations.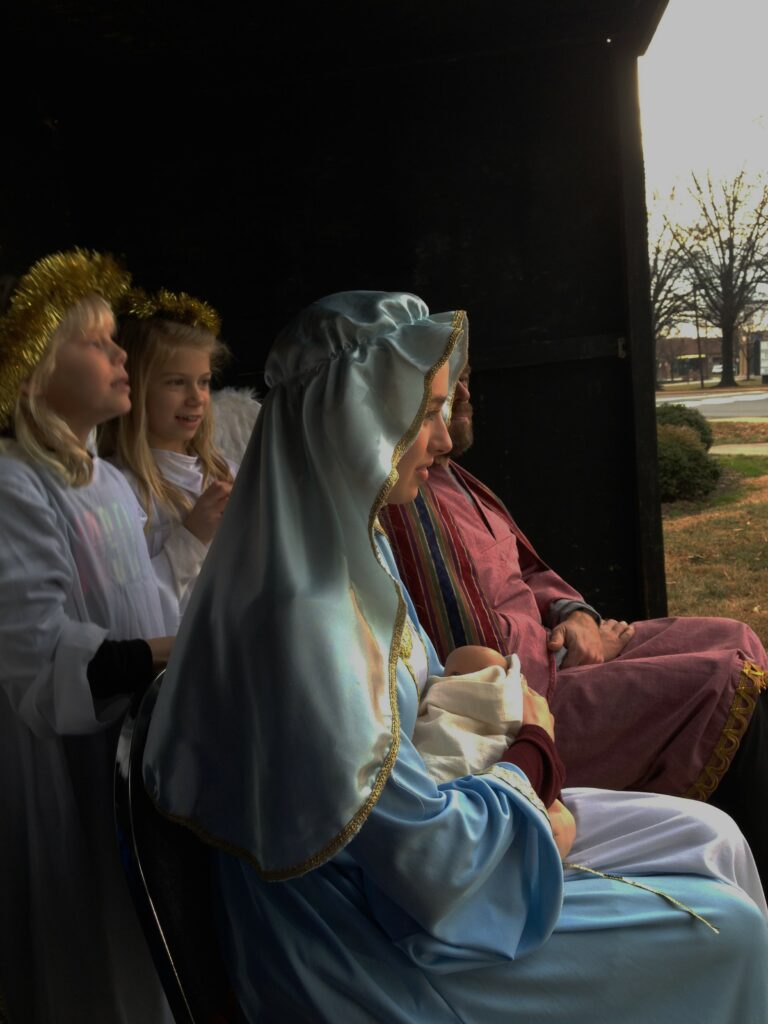 The point of the Christmas narrative, of course, is this baby. In our nativity, the newborn Jesus is represented by a mere doll, which, in terms of purely visual interest, cannot begin to compete with so much furry, four-legged charm. This unremarkable doll is an inadequate place-holder not simply for a real baby, but for a miraculous union of the human with the divine. The baby Jesus is, according to the Gospel of John, God's Word, the Word through which everything was created, newly manifested in human form.
And the Word became flesh and dwelt among us. He was full of unfailing love and faithfulness. And we have seen his glory, the glory of the Father's one and only Son. –John 1:14
God loves us so much that he sent his son to live out the human experience as our brother and friend. Jesus pointed the way, through example, showing us how to claim our kinship with him and our inheritance as children of God. Jesus didn't bring a message of complicated theology and countless esoteric rules to follow. The essence of his message, emphasized repeatedly throughout the years of his earthly ministry, is disarmingly simple:
Love each other. Just as I have loved you, you should love each other. Your love for one another will prove to the world that you are my disciples. –John 13: 34-35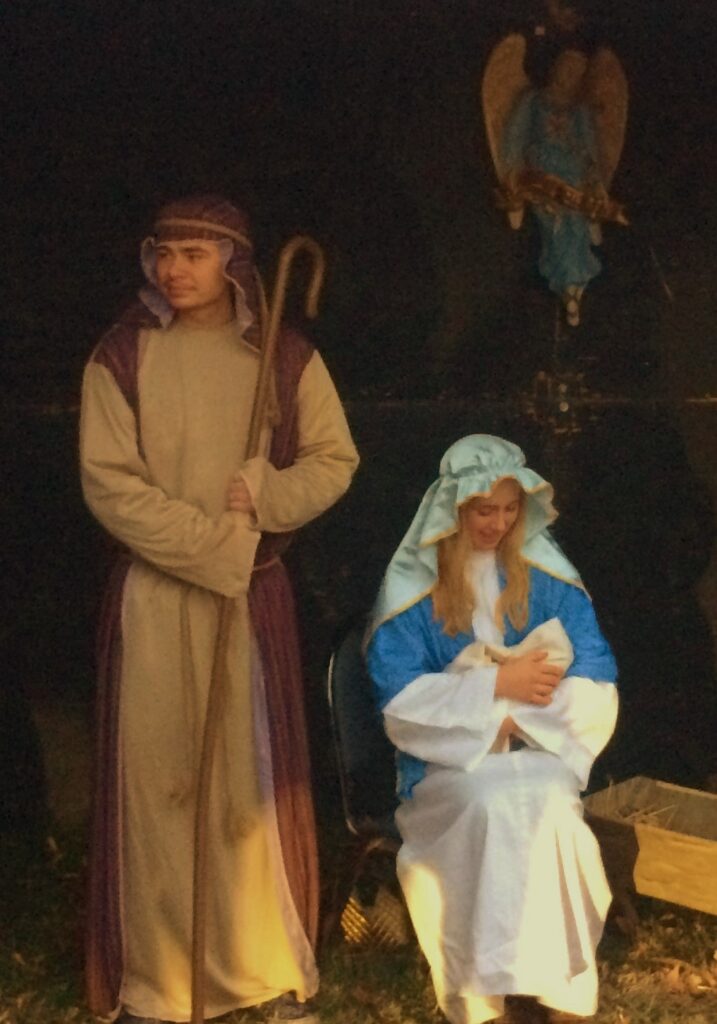 The essential message of Christmas is simple, too. God's great love breaks down all barriers, of geography, race, gender, of social and economic class. We humans are skilled builders of artificial and arbitrary barriers, but there is not one that can withstand the sheer force of goodness that is God's love. God loves us all. And he wants us to love each other.
He has created us to do so:
In the beginning was the Word. The Word was with God, and the Word was God. He existed in the beginning with God. God created everything through him, and nothing was created except through him. The Word gave life to everything that was created, and his life brought light to everyone. The light shines in the darkness, and the darkness cannot overcome it. –John 1: 1 -5
So therefore, the light of God is present in all creation.* I like to think I can sense the divine spark shining within every humble beast at our live nativity, as well as in all our animal friends. What are they, anyway, but God's beloved creatures?
That seed of holy light has been implanted in every one of God's human children. With the kindness and compassion that have their source in God our Father, let us do our best to kindle the divine spark within ourselves. Let us nurture and share the warmth of that light with our neighbors, near and far. With those who look and think like us, and with those who don't. Let us resist quick judgement, avoid pettiness, and act with generosity of spirit.
Let us love one another. We were made for this.
*This idea is explored powerfully and beautifully by Richard Rohr in his 2019 book, The Universal Christ: How a Forgotten Reality Can Change Everything We See, Hope for, and Believe.