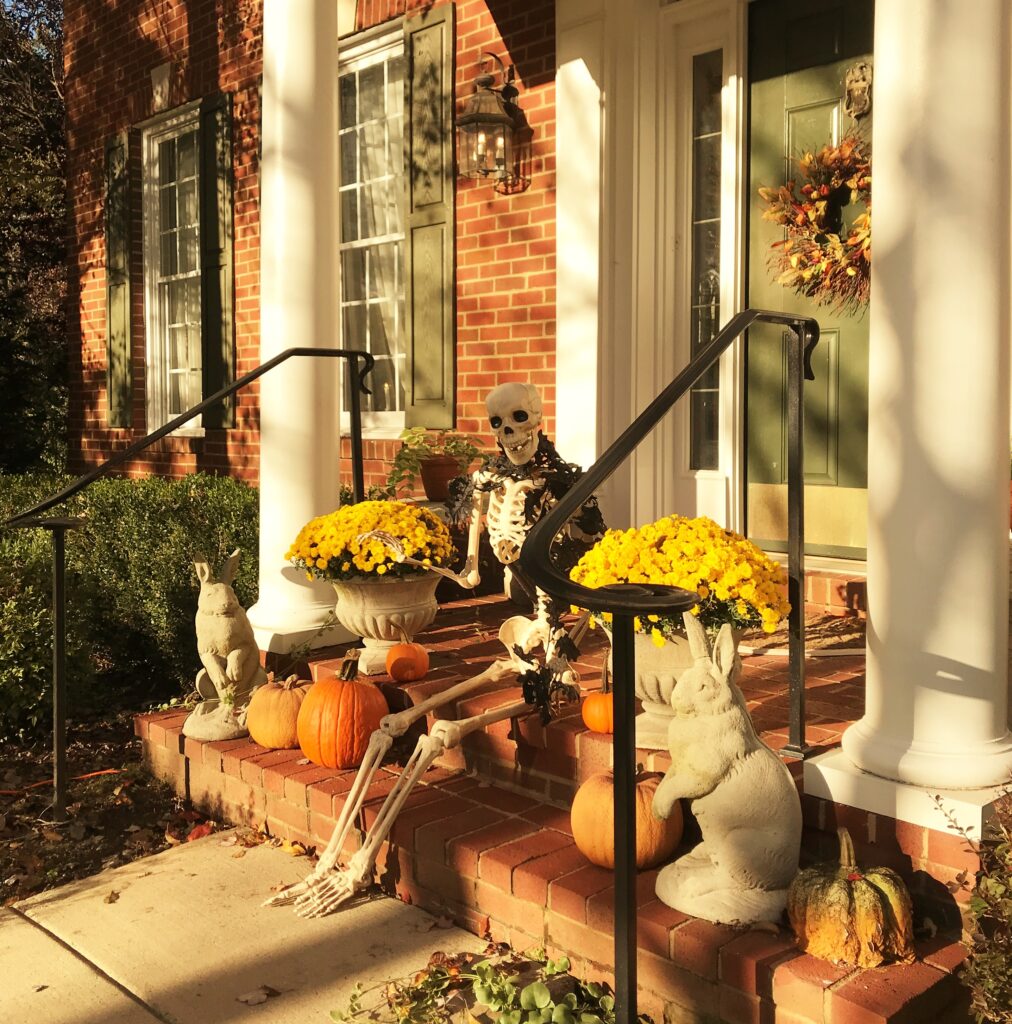 The last time our daughter was home for Halloween was in 2017, her senior year in high school. Her return for the recent holiday weekend therefore seemed extra special. Slim was eager to see our daughter, as well. He recognized her as his ideal partner in preparing for all things Halloween. She is nearly as big a fan of the day as he is. Ever since she was a toddler, Halloween anticipation has begun for her in the summer. (See Friendly Ghosts of Halloweens Past, October 2013.)
In 2020, because of Covid, young parents in our neighborhood organized a Halloween parade, with all trick-or-treating outside. The kids progressed from one end of the neighborhood to the other, to tables set up by families in front of their homes. It worked so well and was so enjoyable that they decided to do it again this year. I liked it because it made it easier to appreciate the costumes and gave more time to chat with kids and their parents.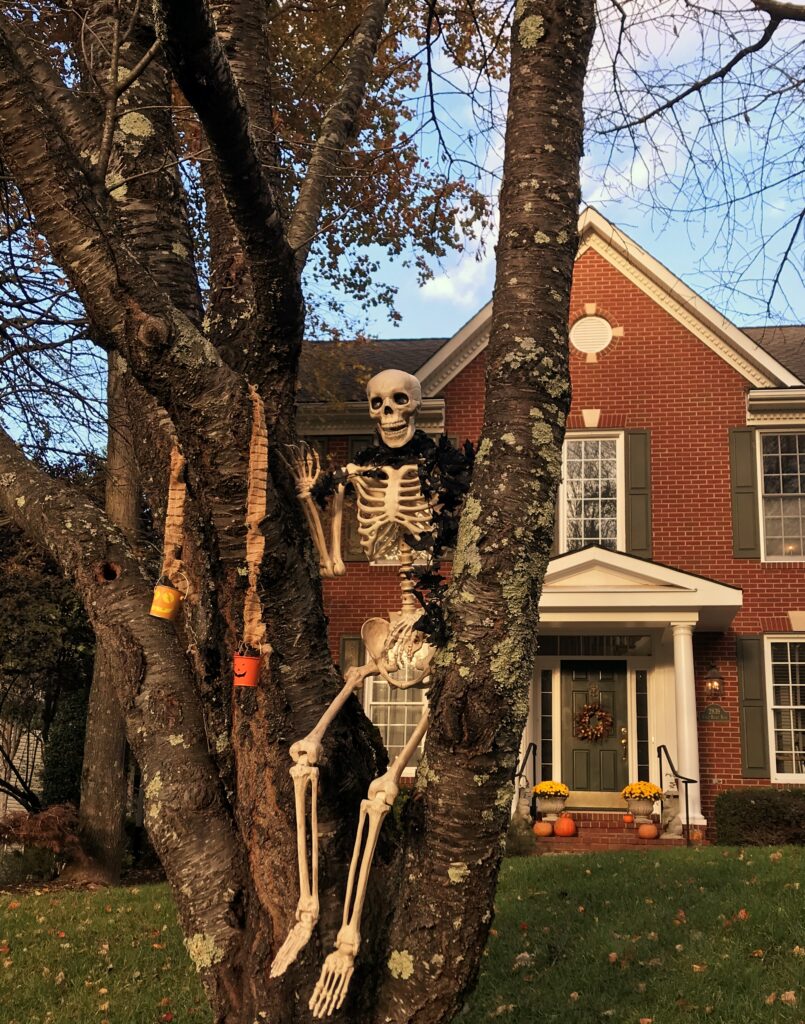 Our daughter was determined to make our Halloween display as thorough as possible. Slim was equally zealous, of course. Together, they hauled out all the old, mostly homemade decorations that D recalls fondly from her childhood: Fred, the stuffed dummy, the tombstone and graveyard fencing, various skulls and bones, jack-o'-lantern votives, spiders and spiderwebs. They festooned our tables for treats in appropriately witchy garb. They set up the fog machine and an outdoor speaker for projecting spooky sounds. They rolled out the love seats from the garage so we could be comfortably seated during the parade. This persuaded even my mother to join us. When we began to see the children approaching, Slim climbed up in a cherry tree, and D, wearing the gorilla costume that we just happen to have, hid herself from view.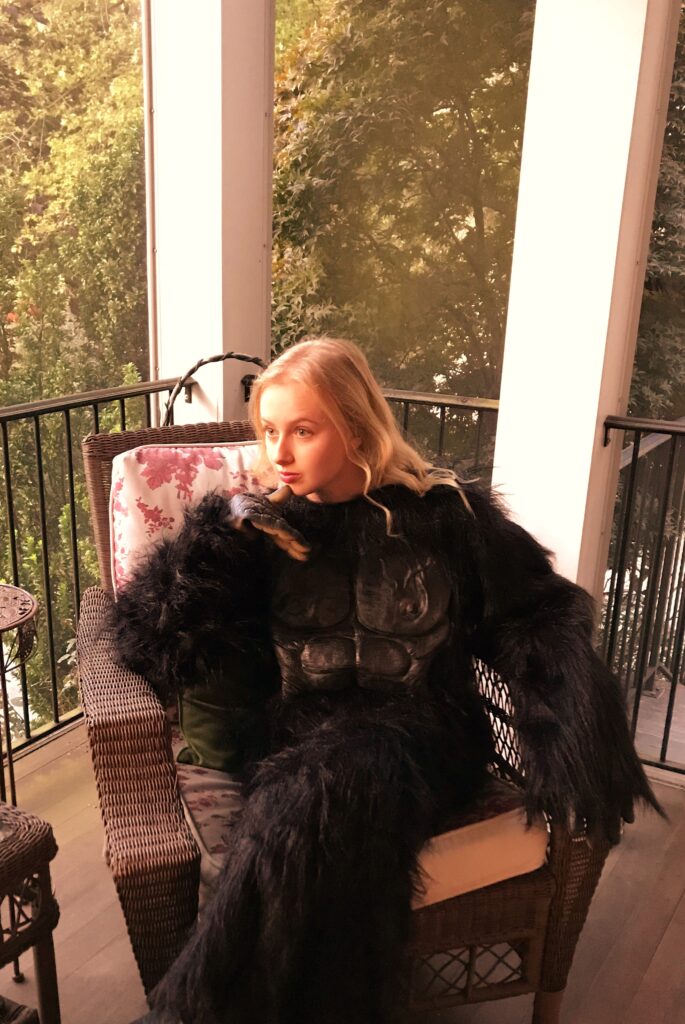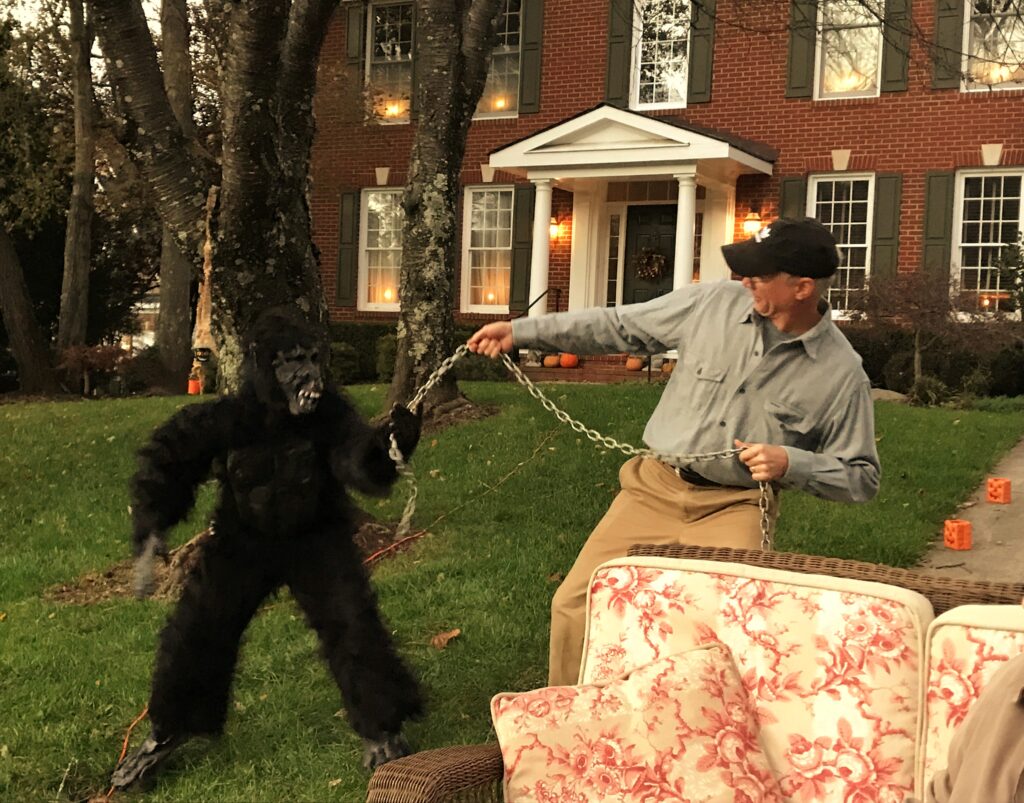 As each group of children chose their treats, my husband, holding a heavy chain, would ask, "Has anyone seen my pet gorilla?" Then D would pop up from behind the love seat and jump around. The performance was well-received, usually with genuine surprise. No one was overly frightened, which was as intended, but one little boy asked his mother to remain close by his side as he got his candy. Several trick-or-treaters, and possibly one parent, wearing an inflatable T-Rex costume, engaged in high-spirited dance-offs with the gorilla.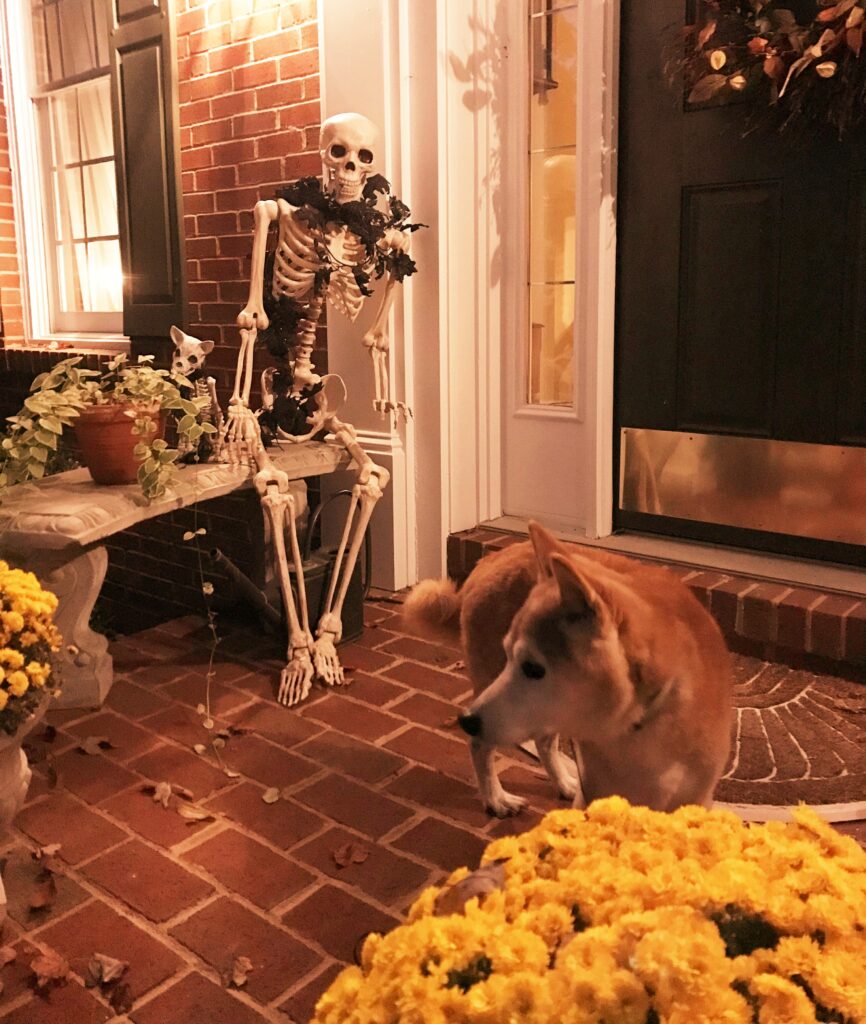 Thanks to our friendly neighborhood, the parade, to the presence of Slim and our daughter, this Halloween was one of the happiest I can remember. It was rewarding to see just how many children live among us. We were impressed by the innovative costumes, on both kids and adults. How satisfying it was to see neighbors out socializing as they provided treats. As Slim likes to remind us, Halloween has evolved from an ancient Celtic harvest festival into a day when we affirm our common humanity through a love of sugar. It's a day to welcome back, unapologetically, the child that abides within us, no matter our age. A time to share some sweetness and joy with others, simply because we're God's children here together. After all, it's the custom to give candy not only to those we know personally, but to everyone who stops by.
It was a perfect top-off to the evening when a small Superhero jumped out of a highly decorated SUV and brought us a festively wrapped bottle of sparkling wine. We'd won one of the prizes for best display. Our daughter's and Slim's efforts had paid off. We'd given treats, and we got a treat. That, my friends, is Halloween, isn't it?