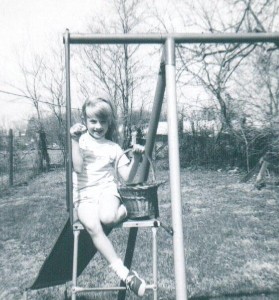 If time moves at a bewildering pace, memory is equally problematic. Over the years, I have clung to certain recollections, the details etched in my mind with crystalline clarity, only to realize later that they are erroneous.
I was absolutely sure, for example, of the enormity of the airplane on my first overseas flight. As I remember it, in coach there were four seats across on the two side rows and ten in the center. I thought my friend Jackie and I were in that miserable middle section. A frail, elderly couple was marooned in the very center, and I felt terrible for them. Recently, when I found my notes from the trip, I read in my own eighth-grade cursive that there were three seats on each side row and only four in the center.  I had been so sure about that central row of ten. While this may seem an insignificant point, in my mind it had been pivotal. It was hard proof of the plane's great size and cattle-car conditions.
I am not alone in my flawed remembrance. Recently, the iron-clad nature of the eye-witness account, once accorded special precedence in crime solving, has been cast into doubt. A witness may be supremely confident of what or whom he saw, but still he may be dead wrong. Perception is likely to be flawed in various ways, including the angle of vision, circumstances surrounding the viewing of the event, even one's emotional state at the time. Memory is not set in stone, but prone to suggestion and easily colored by prior and later experience. It's an ongoing drama being constantly reshot. As time passes, our memories both erode and build up piece by tiny piece, like shifting beach sand in a storm. Salvador Dali's paintings of melting clocks capture this truth: over time, memory is simultaneously persistent and disintegrating.
Memories of early childhood are especially likely to be compilations, aggregates of our own experiences and accounts of older friends and relatives. Photos may trick us into believing we remember, when we do not. I think I recall playing on my swing set when it was set up behind the chicken lot at my grandparents' house. I may remember using the dining room table as a secret fort before Thanksgiving dinner, reaching up surreptitiously to grab a piece of turkey. Guess I'll never know if these memories are mine or borrowed.
In one of my most vivid memories, I'm about four years old, catching lightning bugs with two friends on a warm Kentucky summer night. The vision is suffused with a heavy Keatsian Ode to a Nightingale atmosphere. There are "verdurous glooms and winding mossy ways" and "fast-fading violets covered up in leaves." Jarringly, amidst all that tender poetic beauty, there intrudes the sharp and uninvited recollection that the bubble gum I was chewing began to taste much like the pungent scent of the fireflies. Did this really happen? Maybe it did. As Proust has famously observed, the sense of taste can transport us miraculously into the long-ago. He had his tea-dipped madeleine; I had my insect-infused bubble gum. Perhaps if I were to sample lightning bug gum again, I would know for sure.
Memory is perversely selective. The most trivial of objects and events may be fixed indelibly and inexplicably in our minds. Yet unless we have consciously prepared ourselves beforehand, crucial episodes slip away with barely a trace. Faces of loved ones fade and blur. I don't remember visiting my grandfather in the hospital before he died. I remember the blue dress I wore to his funeral, and I think I recall kissing him as he lay in his coffin. My shock at the firm, marble-like coldness of his face rings true, but who knows?
Memory, like life, is a work in progress, a bubbling stew of the inconsequential and the profound, the ridiculous and the significant. In both memory and life, the miscellaneous threads may tangle. We tend to look for meaning where it doesn't exist, and fail to recognize it when we stumble upon it. Yet dead ends may lead us on new and better paths. When I'm struck by a memory's mingled richness, sweetness and bitterness, it's comforting to remember that it's the taste of life itself.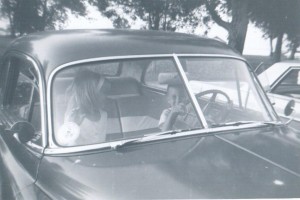 Seems like I remember playing in my grandfather's 1951 Dodge with my friend Bob.  It was the old car Grandaddy used for his errands in town and trips to the tobacco barn. My grandmother wouldn't let him drive her much newer car, a Chrysler with pronounced fins.
Are you puzzled by the strangeness of some early memories?
Wonder why you recall certain details clearly and forget the main story?  I'd love to hear about it.