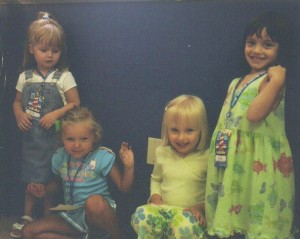 I retired from Crafts and led Bible Adventures for the next two summers.  The following year, when previous VBS directors had had enough, I agreed to lead the entire program.  I've done so for nine years now.  I may be starting to get the hang of it.  At least I've learned some valuable lessons.
My first few years as VBS director were rough.  I was reluctant to ask for help.  I didn't want to inconvenience anyone, so I tried to do too much.  I was hesitant to schedule planning meetings, knowing that every church volunteer  has too many such events already glaring out from their calendars.  I often awoke around 4 AM, worried that I couldn't get it all done, uncertain what "it" was.  I got angry and tired because I didn't have the help I needed.  It was a vicious circle, and it wasn't doing anything for my spiritual well-being, or for anyone else's. 
I was anxious over every bump in the road.  And there were, are, and always will be bumps.  What if I can't find a preschool leader?  What if I can't get enough volunteers to provide meals?  (Our VBS is held in the evenings, and we begin with a light supper each night.) When would I find time to buy all the necessary items for Crafts?  Where are  the robes we'll need for Bible Adventures?  Will I be able to locate the place where I can pick up dry ice?  (VBS typically requires many odd props.)  What if very few children participate?  Or what if there are way too many, far more than we can handle? 
I fretted  about the task of organizing the children into the crews in which they rotate from one activity to the next.  There are many subtleties to consider:  these two siblings must be together; these cannot be together; this child doesn't get along with that one; these two get along too well and will conspire to create chaos; these four cousins want to be in the same crew;  this kid wants to be in a group led by his older sister, but the sister needs a break from her brother, etc.  Then there are those difficult children whose strong personalities overshadow those of their peers.  And each year there are some children I've never met.  Are they painfully meek, or boisterously gregarious?  On the afternoon that VBS begins, I have devised neat lists of kids,  organized into apparently cohesive groups.  An hour later, with the walk-ins and the no-shows, my carefully considered groupings are shuffled unrecognizably, turned upside down.  This problem will always be with us.  It's not improved by my worrying about it. 
Gradually, I began to let go of more worries.  Every year in VBS, we tell the kids about the power of prayer:  Don't worry about anything.  Instead, pray about everything (Philippians 4:6).  The message finally got through to me, too.  I started turning my worries into prayers.  Before long, I was hearing an answer:  ask for help. Evidently I had somehow managed to give the impression that I had everything well under control. Once word got out that this was completely false, offers came rolling in. Some were from people who had no desire to be surrounded by a mob of children; they realized they could contribute in other valuable ways. One volunteer, who has a gift for composing, editing and polishing text, had the idea to publish a Wish List in the church bulletin and newsletter that spelled out our needs, both supplies and personnel. The Wish List, and the gracious generosity of our church family, allow me to go on vacation immediately before VBS and know that progress is ongoing; my vigilant and efficient friend is minding the store. I found that, if asked, a surprising number of people are glad to be of assistance. It helps immensely that our current minister, who knows how to rally the congregation, is our VBS head cheerleader. Each year, more people get involved, resulting in less work and greater camaraderie for all.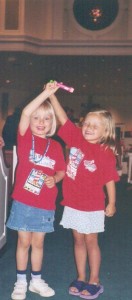 For the past several years, we've been fortunate to have the right volunteers for every job. Our music leader, a talented singer-songwriter and versatile instrumentalist, is enthusiastic and easy-going. He has helped me realize that we shouldn't expect perfection, from ourselves or from the children. He reminds me that when something goes wrong, as long as no one is injured, it's usually not a big deal. In Crafts, thankfully, we have creative leaders who take the messiness in stride and manage to enjoy the kids. Heading up Games is a dynamic young woman I watched grow up in the church. She possesses boundless energy and a formidable sense of dedication. Leading the video-discussion segment is a husband and wife team skilled in engaging the kids without condescension. My daughter recruits a few buddies, and they handle Bible Adventures with imagination and a sense of fun. D shoulders more responsibility every year; she has become my assistant director.  She excels at the tasks I find most difficult, and she knows the ropes, having lived and breathed VBS every August for as long as she can remember. Our preschool leaders are caring, calm and unflappable; serenity reigns in their classroom. I no longer have to worry about arranging meals; this burden is shouldered reassuringly by a well-organized friend. We couldn't pull off VBS without our youth; they bring their friends and shepherd the kids from one rotation to the next.  Due to all these many considerate and capable volunteers, my job has become pleasant, even rewarding. 
After all these years, it's begun to make sense to me: an important aspect of VBS is building community.  There is no glory in going it alone, beaten down by worry.  It's about working together, guided by prayer, in a spirit of optimism and generosity.  When we combine our unique talents and pool our resources, that crucial VBS message resounds further and remains resonant far longer:  Jesus loves you so much!