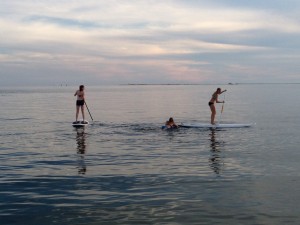 Until the beginning of this week, the weather has been so warm here that I was getting lulled into thinking it was still summer. While I'd prefer that it not be 85 degrees in October, the ongoing heat suggested that time was standing still.  Had we finally found that "Hold" button I'm always wishing for?  It almost seemed so.
But the world must be spinning, and moving in its orbit.  Monday's rain ushered in more seasonable temperatures.  It triggered the pine straw showers that turn our driveway and the hill beside it golden-red every October.  We had one beautiful, crisp fall day.  Yesterday brought cold, insistent rain, and it continues today.  It's time to search out my gloves and the rest of my warmer dog-walking gear.  But I need one last look at summer.
A bit of summer's essence is preserved in the photo above.  It shows our daughter and two friends on stand up paddle boards this August.  It was just before sunset, the air was unusually balmy, and Cape Cod Bay was calm and smooth.  It was toward the end of a very special day, when we had a visit with friends from home.  This was an unusual event.  We don't typically see Virginia friends in Massachusetts.  Our Cape friends and our home friends have, until now, remained completely separate; they inhabit two very different worlds.
But this year, our neighbors decided to vacation in Plymouth.  This is the family with whom we often spend Thanksgiving.  We met them when D and their younger daughter began Kindergarten together.  The girls have been close ever since.  Their friendship is not of the on-again, off-again type.  It's not stained by gossip, catty commentary, competition or envy.  They never discussed being "best friends."  It's a friendship that doesn't require numerical ranking or constant rebooting.  The two girls are not and needn't be exactly alike.  But they seem to have a genuine regard and respect for one another, and a true appreciation for their differences.  They have a rare thing going. This kind of comfortable companionship doesn't happen often.  If we're lucky enough to find it, we need to hold onto it.
All during elementary school, the girls had a standing Tuesday playdate.  It's been a pleasure to watch them together through the years.  I would peek in as they made up games in the playroom, watch from the window as they dashed around the yard in the sprinkler or performed acrobatics on our rope swing.  They were nearly always laughing, and their friendship struck me as familiar.  I could see me with my childhood friend Katie, with whom the most mundane activity could be fun.  She and I shared a similar bond, and it's one that has endured.  I expect that, in years to come, D and her friend will eagerly catch up with one another during winter breaks from college.  I'd be very surprised if, thirty years from now, they're not exchanging Christmas cards (or whatever kind of virtual correspondence has taken their place by then).
The older daughter is now a high school senior.  Her interest in several New England colleges prompted the family vacation in Plymouth.  The ideal elder sister, she is patient, encouraging, grounded and wise.  She has never been above socializing with her sister's younger circle.  My daughter considers her a good friend and trusted advisor. I find it reassuring to know that the three girls are all, for this one year, in high school together.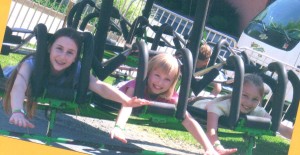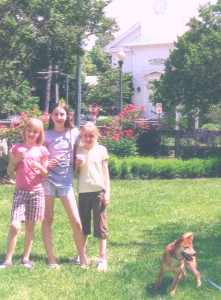 The two photos above show the friends at our local Memorial Day carnival in 2008. When our girls were in elementary school, this event was an annual tradition, not to be missed.
These kind and thoughtful sisters, as would be expected, embody the same values as their  mother and father.  Once you're a parent, your child largely determines your friends.  The parents of your child's friends become the people with whom you spend time, like it or not.  Our daughter chose well for us;  we are very fortunate.  H and I enjoy a real sense of camaraderie with the mother and father and with their two girls.  It was a welcome turn of events when it happened that our families would be in the same area at the same time for our summer vacations.
The day that our friends were arriving in Truro, we were filled with anticipation.  Text updates told us they were getting closer.  When they pulled into the shell-paved parking lot, we were crossing the green to meet them.  D was excited to show her friends her favorite summer place.  We knew the whole family would appreciate the bay and its charms.  They wouldn't be put off by the seaweed.  They'd find the odd marine life amusing.  They wouldn't wonder why we didn't opt for more luxurious housing.  They would enjoy Provincetown's beauty as well as its eccentricities and humor.  The day would be relaxing, easy and fun.
And it was.  It was a lovely day.  There was time to sit back in beach chairs on the flats during an impressively low tide.  Time for the girls to create a big moated sand castle.  Time to watch the water reclaim it and most of the beach.  After an early dinner at the Lobster Pot, with no crowd and no wait, we wandered among Ptown's unique sights.  We returned as sunset approached so D and her friends could try out the SUP boards.  The water was gloriously tranquil.  The typical chill of the evening never descended.  We talked, laughed and watched our girls floating happily on the smooth, glassy bay.
The photo of my daughter and her friends on the water is my parting  summer shot.  It captures the luxurious ease and the rhythm of summer.  And it speaks of the promise of friendship to transcend the seasons and the years.