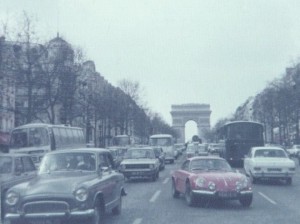 Yesterday, our daughter went to New York City on a whirlwind, 24-hour trip with her drama class.  The group left from the school by bus at 5 AM, and returned at 5 AM this morning.  They saw two Broadway shows–Newsies and the eagerly awaited Matilda, still in previews.  A Newsies cast member led the kids in a dance workshop. They had some free time, so I'm expecting a a full report on wandering Times Square characters.  Are the Naked Cowboys in season yet?  Were there plentiful sightings of Elmo, Shrek, Hello Kitty, Grandma Liberty and the Tin Man? How was the singing waitstaff at Ellen's Stardust Diner?  D is still asleep, so I haven't heard the details of the trip yet.  I'm very grateful to the drama teacher and to the parent chaperones accompanying the group.  I'm especially thankful that I was not among them.  While I enjoy New York in small, metered doses, I'm relieved that crowded, pre-dawn bus rides are predominantly in my past.
As D was preparing for the excursion that launched her spring break, I was recalling the days when I looked forward to my own eighth-grade adventure.  I mentioned in an earlier post that I had the unlikely good fortune to participate in a school trip to France and England.  (See A Small Reunion of the Rutherford Hall Gang, Nov. 2011.)  As I said then, it was a rare event for a group from the Atlanta Public City Schools to venture anywhere for spring break in the 70s, much less to Europe.  It was just about unheard of then for middle-schoolers in our area to take part in such study trips.  But we were blessed with a dynamic and unusually dedicated French teacher, Martha Elizabeth Correll.  She decided we must see France, and we must see it with her.  We loved and admired the young, fun and charismatic Mrs. Correll.  She seemed to be fond of us, too.  She found a bargain-priced trip through the now extinct Foreign Study League.  Nine of us, including several of my best friends, managed to persuade our parents that this was an opportunity not to be missed.
Mrs. Correll encouraged us to keep a journal during our trip, and naturally I saved mine.  In my first entry, dated a few days before our departure, I mentioned my vague fear of flying.  I had never been on a plane before: It couldn't be especially frightening, could it?  Katie, who wouldn't ride the roller coasters at Six Flags, had flown before, and she wasn't scared.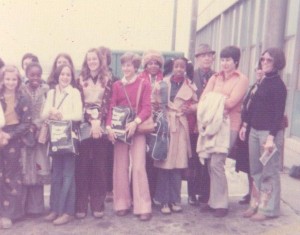 Above, most of our group at the Atlanta Airport, ready to board the plane to New  York.  Several of us hold our blue and white Foreign Study League carry-ons.  Our teacher, Mrs. Correll, is at the far right, in her signature, whimsically decorated bell-bottom jeans.
My journal from the actual trip continues on the subject of airplane travel.  The flights were unexpectedly smooth, I reported.  Apparently I was expecting a roller coaster experience, despite Katie's evidence to the contrary.  But every aspect of flying was novel and amazing, if not particularly enjoyable.  I wrote at length about the unbelievably cramped quarters on the overseas flight, the tiny bathrooms, and the unidentifiable food (my friend Jackie maintained that we had been served baked rat).
After a sleepless night on the plane, we arrived in Paris in the gray dawn and boarded our bus for an introductory tour of the city.  I recall powerfully the miserable war I waged against my leaden eyelids during my first, much anticipated hour in a foreign country. We were surrounded by legendary sights, yet the yearning for sleep was overwhelming.  After the discomfort of the airplane seats, the tour bus provided an ideal environment for snoozing.  Most eyes were closing, most heads were bobbing.  Mrs. Correll, ever vivacious, walked the aisle, rousing us.  She hadn't taken us with her to France so we could sleep on a bus.  Once in the heart of Paris, I shook off some of the muddled fog of half-sleep.  After stops at the Eiffel Tower and Notre-Dame, nearly everyone was awake enough to feel rejuvenated by our surroundings. Avoiding sleep became even easier once we noticed that our Parisian guide, Salvador, was charming and exotically handsome (so French!).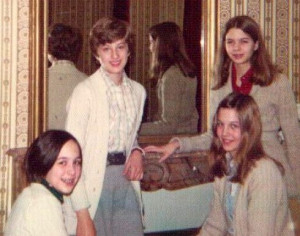 Because my expectations had been low, our  hotel was a pleasant surprise.  It had one of those old-fashioned elevators I had seen in movies, with a folding iron grille in place of a door.  Our room  was almost grand, if slightly faded.  I liked its high ceilings, ornate wallpaper and elegant fireplace. Its large size was fortunate, considering there were five of us in it.  Katie and Rebecca shared one double bed, Jackie and her mother shared the other, and I got the single.  I remember being cold at night and sleeping huddled under my coat. We had been told not to expect a private bathroom, so we were surprised to find a spacious one with lavatory, bathtub and bidet.  The toilettes, as we learned to say, were down the hall, in claustrophobic compartments. One of our friends went in one and couldn't get out. He was finally extricated by a team of chamber maids speaking in baffling, rapid-fire French.  After that, we were all careful about locking the door just so.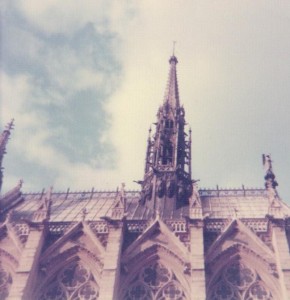 Our three-day visit to Paris was like a fast-paced tasting menu of the city's highlights, most of which Mrs. Correll had discussed with us previously in vivid detail.  She wanted us to understand and appreciate the history and culture of France, as well as its language. Paris came alive for us during that short time because our teacher had prepared us well.  We heard some of the Easter mass in Notre-Dame.  We saw the forbidding Conciergerie, where Marie Antoinette spent her sad last days.  We beheld the lovely Sainte-Chapelle, the Gothic jewelbox that Saint Louis built to house the Crown of Thorns.  We wandered the Latin Quarter, alive with bohemian student activity.  We explored the courtyards of the Sorbonne, where Mrs. Correll had studied.
We watched old soldiers playing boules outside Les Invalides, fishermen casting their nets from the Pont Neuf, and children sailing paper boats in the Luxembourg Gardens.  Everywhere there were Frenchmen carrying baguettes and wearing actual berets. We spent some time (not nearly enough for me) in the Louvre.  Of course we walked  the Champs-Elysees.  We cruised the Seine at night in a Bateau Mouche.  I got to witness first-hand the view I had most anticipated–the tip of the Île de la Cité with the lacy spires and flying buttresses of Notre-Dame just behind.
I loved the wealth of intricately decorated Easter candies and pastries that beckoned from the windows of small shops on narrow streets.  Never before had fruit and vegetables looked so beguiling as they did in the city's outdoor markets.  Even displays in butcher shop windows were strangely beautiful, recalling old-master still lifes.  We ate in cafés and brasseries, and learned that a croque-monsier, an omelette, or anything with frîtes was a good choice.  We learned that French ice cream is served in minuscule metal dishes.  And we found that paying for our meals and managing francs and centîmes was as difficult as we had feared.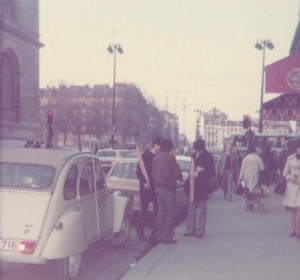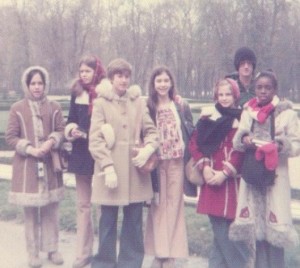 We were busy during our three days in Paris.  But we weren't so busy that we missed getting a sense of the city's unique, ebullient, quirky atmosphere. Sooner than we would have liked, it was time to head to Normandy, to Mont-St-Michel, and on across the Channel to England.