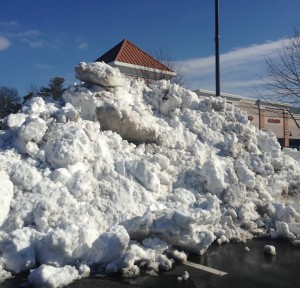 The last snowflakes of the Blizzard of 2016 (aka Winter Storm Jonas) fell five days ago, on Saturday evening.  According to careful measurements by my husband and daughter, we got about twenty-eight inches.  Most of the snow remains very much with us, in far less attractive configurations than the graceful, pristine drifts in which it fell.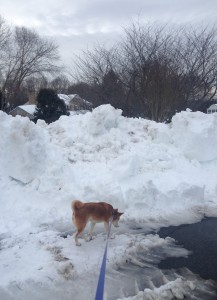 Last winter brought frequent snows to Northern Virginia, as my ten snow day posts of 2015 attest.  (See here and here.)  But we haven't had a truly stupendous snow event  in five years.  In December 2009 and February 2010 we were treated to nearly back-to-back blizzards.   My daughter has been wishing for a similarly substantial storm ever since.  She likes her snow measured in feet.  She delights in tossing out the expected routines of daily life for all-consuming, all-day snow play and management.  To her credit, she pitches in with the digging out.  And the inconveniences that massive snows may bring: they're simply part of the adventure.  What she recalls most distinctly about our loss of electricity during the 2010 storm was using the grill to melt butter for birthday cake icing.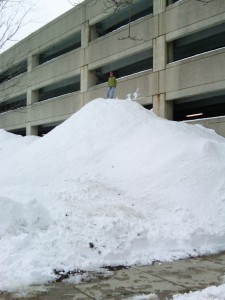 Here she is, barely visible atop a snow mountain at the Reston Town Center after the February 2010 storm.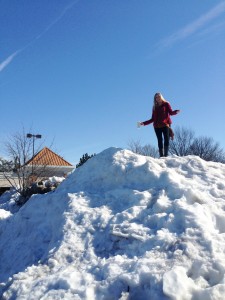 And, after the more recent storm, atop a snow pile in the parking lot of a local shopping center.  I guess she'll always love to climb snow piles.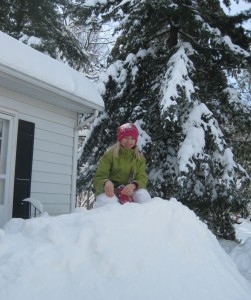 On a snow mound at our house during the Blizzard of 2010.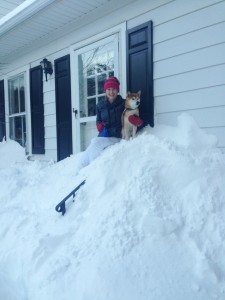 And two days ago, with Kiko on a similar mound in the same place, after the latest storm.  Big Snow, happy kid.