It's well past Christmas, I realize, but I'm running behind in this new year, just as I was in the old year.  It's consistent, then, that my last Christmas post, an annual update on extreme gift wrapping, appears two weeks into January. 
Thanks to my husband and daughter, it's hard to predict what might appear around the tree in the days leading up to Christmas:  a family of enormous cylinders, a tall skinny pyramid, a child-sized obelisk, a gift tower ten feet high.  Not all packages appear under the tree; some have been suspended from the ceiling.  Certainly one of the most original and unexpected presentations was the pentagon and five pyramids that came together to form a star on Christmas morning.  My husband, searching for ideas for this year's wrapping scheme, found that when he Googled "Extreme Gift Wrapping," the first image that popped up was that very star he'd made in 2012.  He and my daughter have set the bar high. We're prepared to be wowed.  (For previous years, see  here, here, and here.)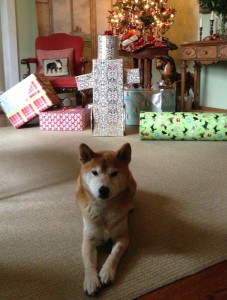 Getting to "wow" becomes all the more unlikely when one expects it.  Subtler strategies must evolve.  When the first gift from my husband to my daughter appeared a few days before Christmas, it was an ordinary square box, wrapped in plaid paper.  On one side there was a wedge-shaped section of silver paper.  Simple.  Not showy.  If you didn't know better you might think he'd run out of paper. 
My daughter countered with a more emphatic gesture:  she transformed a gift to her father into a gold and white-patterned Droid.  Her Star Wars tribute, she called it.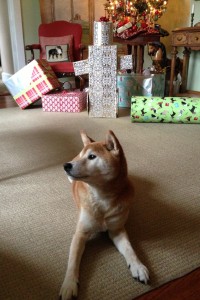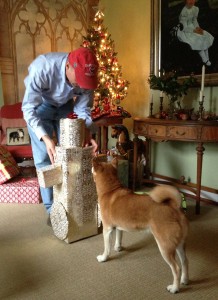 My husband was impressed and intrigued.  (Kiko, not so much.  He showed mild interest when H made it move.)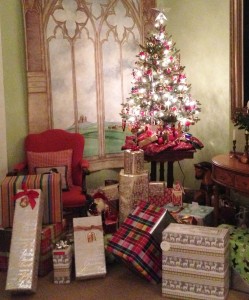 Eight more gifts for our daughter appeared during the next several days.  Each one was wrapped in the same size square box.  Most, but not all, had an apparently random section of shiny silver paper on one side.  On Christmas Eve, the gifts were piled seemingly haphazardly around the tree.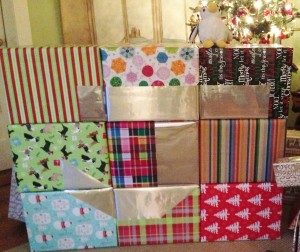 On Christmas morning, the square packages for our daughter were stacked, as if by Santa, so that the silver paper formed the letter J, her first initial.  (When I refer to her as "D," it stands for "daughter.")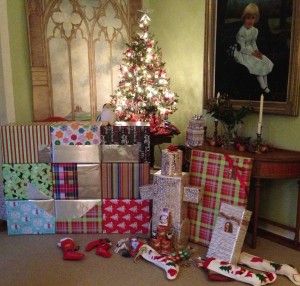 The "J Wall" as I think of it, lacks the visual impact of the star.  Indeed, that star is hard to surpass.  But it's clever.  If you think about it philosophically, you could say it reshuffles chaos into order, into meaning.  Sort of the way the divine magic of Christmas can inject order and meaning into our lives, if we let it. 
And  if you simply consider how the J Wall looks, you'd probably say it serves as a very pleasing complement to the Droid, a charming creation on its own. 
Hats off, again, to H & D for keeping the ball in play during their ongoing volley of extreme gift wrapping!  What, I wonder, will they do next year?  (Glad I'm only a spectator in the game.)