The Saturday of my stay in Atlanta, my friend Connie and I walked a portion of the Atlanta BeltLine.  Connie is among my parents' most devoted neighbors.  She's there to help, as needed, in any way.  She's a nurse, and our family has relied on her numerous times for medical advice and assistance.  When I thank her for all that she does, she says simply, "I love your parents.  They're family."  And she means it.  I've come to think of Connie very much like a sister.  She also loves Atlanta, and she can be counted on to know what's worth seeing and doing at the moment.  With Connie, I catch up quickly on the life of my old home town.
The BeltLine is a work in progress, the ongoing redevelopment of a former rail line that circles the city's core in a  twenty-two mile loop.   It includes a wide paved path for walking, biking and running, along with other trails and parks branching off from the main circuit.  It's bringing revitalization and the excitement that comes with it to in-town areas that had tended toward the derelict and run-down.  When finished, it will link up forty-five Atlanta neighborhoods.  It's already possible to walk from Virginia-Highland to the Carter Center.  The BeltLine is an appealing place to get some air and exercise, to walk the dog, and to see city landmarks from unique perspectives.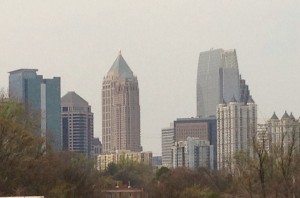 A section of the mid-town skyline, from the BeltLine.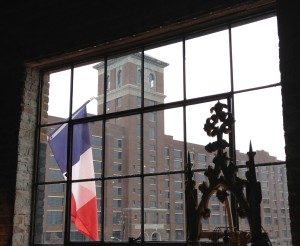 A view of the Ponce City Market, currently in development, from Paris on Ponce & Pop Marché, a vast collection of cool boutiques.  The enormous City Market building began its life as a Sears & Roebuck store in 1926.  In the 1990s it functioned as City Hall East, but has now sat vacant for years.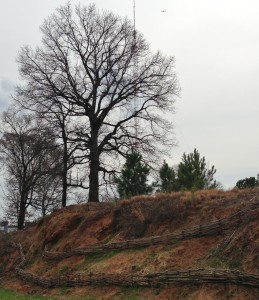 One of many BeltLine oddities:  medieval-style fencing of braided sticks, awkwardly meandering, for no apparent reason, across a desolate hill.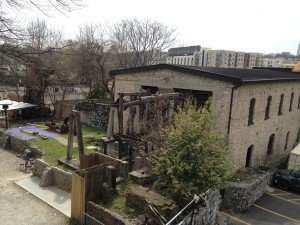 The Masquerade, a live music venue, seen from the back.  I remember it as a popular restaurant and bar called the Excelsior Mill, so named because the building was constructed as a factory to produce excelsior, a stuffing and packing material that predates foam rubber.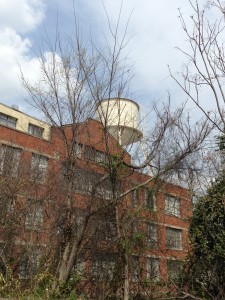 An old water tower seems to perch precariously atop this apartment building.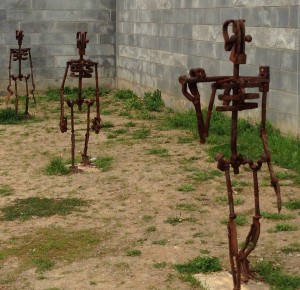 Public art is common along the BeltLine.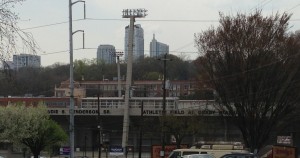 An entrance to the Eastside Trail is near Grady High, my alma mater.  In front of the school is its football stadium, renamed in 2011 for Coach Henderson, who was on his way to becoming a local legend during my Grady years.