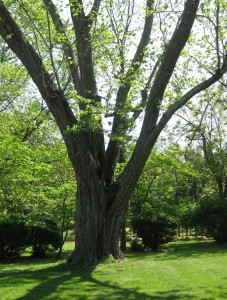 For the past two weeks or so, the seed pods have been falling from the big maple trees in our front yard. As the wind blows, they hit the roof with a sound like a shower of fat raindrops or forcibly hurled pea gravel. The tiny twirling helicopter blades drift slowly to the ground. Our daughter used to love to chase the flying seed pods. They gave my husband and me a welcome break from hands-on parenting. On warm weekend afternoons, we'd sit in cheap aluminum lawn chairs and watch her zigzag happily across the grass. We all still appreciate those spinning seed pods, despite the legion of tough little seedlings that spring up among the flower beds. We certainly love the trees that send them forth.
It was in the late fall, nearly eleven years ago, when we first saw our house. Most homes in our area date from the seventies through the nineties, and it stood out because of its age. Built in 1920, it was originally the center of a two-hundred acre farm. Unlike most northern Virginians, who apparently put a high value on new construction, I actively wanted an old house. I like the idea of a house with a past, with character, with some history behind it. Having watched my grandparents' lovely old Victorian slip through our fingers, as well as the demolition of my grandmother's birthplace, a far more historic dwelling, I wanted the chance to be a good steward of someone else's family home.
I had all but lost hope of finding a livable old house, but suddenly we had stumbled upon one. It was a little shabby, and it had aluminum siding. But it was a genuine old farmhouse, a classic American four-square, with sizable rooms and a sensible floor plan. While it contained some dated 1970s touches, such as expanses of orange shag carpeting, it was solid and didn't appear to need structural renovation.
And it had those wonderful trees, a semicircle of six huge trees that shaded the front yard. They were silver maples just like those that twisted their knobby roots through the soft grass at my grandparents' house in Kentucky. Because it was late November, the branches were bare, but the shaggy gray-brown bark was as recognizable as the face of an old friend. This was the house! I was certain of it. The silver maples offered living proof.
Because my husband is a clear-headed man of business and science, he weighed all conditions carefully and made a low-ball offer on the house. I was anxious, nearly certain we wouldn't get it, already formulating back-up plans.  Maybe that 1980s house (the one annoyingly referred to as an "executive colonial") wasn't so bad after all.  Or we could give up the search and spend another year in our rented townhouse.  But our daughter, a new walker, needed more space and a yard in which to roam.  I wanted an old house. I wanted the old house with the old maple trees. The one that just seemed like home.
Luckily, the prevailing local bias against older homes worked to our advantage. We managed to learn that our only serious competition was a developer whose goal was to tear down the house and build a bigger, newer one. Better yet, two. The owner, fortunately for us, much preferred that the house in which she had raised her children continue to be a family home. 
During the following December, matters concerning our purchase took off on a wild roller coaster ride. There were complications with the contract, concerns about the foundation, the floors, the septic system, the furnace, the roof, the crazy property lines, and more. During our Christmas vacation with H's family in Rochester, he was on the phone constantly with building inspectors and legal experts. But by early January, the house was ours. Our realtor, who had decades of experience, claimed that the closing was the most dizzyingly complex one she had ever witnessed.
That winter, while H worked especially late, I often sat by an upstairs window in a rocking chair, holding our year-old daughter.  As she nursed, or slept, smiled or cried, I looked out through the somewhat uneven glass at the dark blue shadows the big maples cast on the snow-covered ground. It sure was good to be home.  And it still is.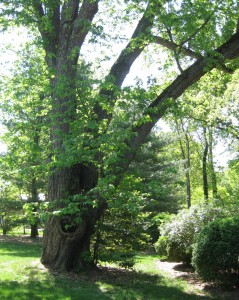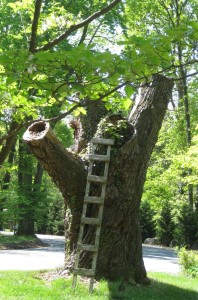 Silver maples are fast-growing trees with limited life spans. 
We had to remove this tree's branches when they became fragile
and hazardous to passing cars, but we left the trunk as a monument.  Our daughter occasionally uses it as a place of solitary refuge.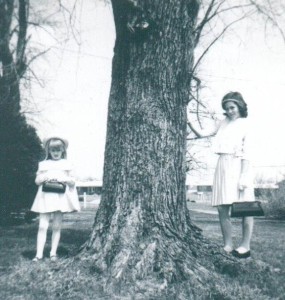 On an Easter Sunday in the 1960s, my friend Jeanie and me
beside one of the silver maples in my grandparents' yard.