Just as I was bemoaning my daughter's dearth of memorable movie experiences, she was invited to a birthday party to see The Hunger Games on its opening night. This is great! I thought. She can learn to love going to the movies, and I am not inconvenienced. My parents must have felt a similar degree of relief when I went to Disney World with our church youth group. My husband and I are in complete agreement that opening-night showings of eagerly anticipated potential blockbusters are firmly in our past. I was excited that D had the chance to participate in a true film event. I also looked forward to a pleasant, quiet spring evening at home. Maybe a couple of drinks on the porch with H.  How nice for everyone.
D, ever the skeptic, has a tendency to cast a cool and wary eye on many, if not all, trends in pop culture. It pleases me immensely that she doesn't follow, willy-nilly, the noise of the crowd. She was especially suspicious of such tween phenomena as Hannah Montana, the Jonas Brothers, High School Musical and Justin Bieber. I think she imagined a vast adult conspiracy to control the tastes of her peer group, and she resented it.
She was unmoved by the prospect of the Harry Potter saga, even though H's grandmother gave us all the books in the series (after enjoying them herself). I read most of the first book to D when she was in third grade or so. Toward the end, during Harry's confrontation with Voldemort, her interest waned. The situation was too tense for pleasurable before-bed reading. She resisted when I suggested afternoon readings, and so the book remained unfinished. We saw the first movie several years after it appeared, at home on DVD. With that, her tepid interest in Harry Potter was quenched.
As for Twilight, it sounded ridiculous, according to D. Having been raised on horror stories, I was curious to see what the fuss was about, so I bought the books. After finding the first one more satisfying than I had expected, D read it and gave it a lukewarm review. She felt no need to continue with the next volumes or to see any of the movies.
My daughter was no more interested in The Hunger Games series for several years. Children fighting to the death? Really? How truly horrible!  I agreed with her. It sounded like something best avoided. But as the hype surrounding the movie gained momentum, and as friends she respected spoke of their enjoyment of the books, she cracked. When a friend lent her the first book, she began reading. She loved it, she was surprised to admit. The opening night birthday party gave her a deadline, and she stayed up late finishing the book.
The family of the birthday girl has continued to eagerly embrace the movie-going tradition. I admire their zest and stamina. They took their girls to all the Harry Potter films, typically on opening weekends, many at midnight showings, frequently in costume. Once at a neighborhood party, the mother told me that she and a friend had attended a weekday 1 AM opening of Sweeney Todd. Despite being exhausted at work the following day, it was worth it, she said, clearly elated. I can only vaguely remember a time when I might have felt that way.
D's first real movie event was a great success, thanks to the enthusiasm of her friend and her parents. The theatre was among the newest and most comfortable in our area. The screen is quite large by today's standards, and the seating is stadium style. Even if an incredibly tall person sporting a top hat occupies the seat ahead, it's still possible to see the action.
Thanks to our twenty-first century technology, I got a play-by-play report of the evening. The texts arrived with regularity:
In theatre. It's sold out!
Just saw 3 other friends here!
Preview for Dark Shadows!
It's starting!
At this point, there was a break, I'm glad to say, during which she actually directed her attention away from her phone and toward the screen. I can imagine the rows of young teenagers putting their phones to sleep and raising their heads in unison. The final film-related text was this:
The Hunger Games ended my daughter's long stint as a reluctant movie-goer. I doubt it will result in her unconditional acceptance of every teen trend to come. She has, however, already expressed an interest in seeing Titanic 3-D with friends over spring break. I bet she'll be up for Dark Shadows, although she may no longer want me to tag along. If so, Mama will go with me. That's the thing about mothers—the good ones never get too grown up to be seen with their children.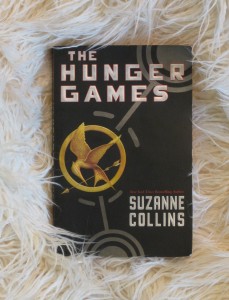 Finally, a young-adult phenomenon that my daughter endorses.