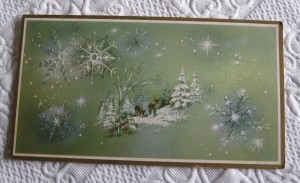 Well, we still live in the double-wide,
But Bubba's added on,
A bass-boat shed and a workshop,
And new flamingoes for the lawn.
We took down the front yard tire swing,
Now that Junior's in the pen,
But it looks like a happy new year:
They moved him off death row again!
—Ray Stevens, Xerox Christmas Letter
I used to write a rather lengthy personal note on each Christmas card.  I vaguely remember a time when this was a pleasure, in an era before the responsibilities of adult life kicked in so emphatically.  Three years ago it had become a dreaded chore, one I simply couldn't face. (This was compounded by my hand-making each card.)  But I also couldn't bear not to send Christmas cards.  So, I did what our family had never done before: I wrote a holiday newsletter. Each year I confront the question anew.  Is it tacky?  In bad taste?  Categorically offensive?  Or does it depend on the content, the wording, the tone?
We've received many holiday letters. When H and I were first married, one grandly worded missive reported the husband's acceptance of "an offer he couldn't refuse." It was also noted that he already had a perfectly good job when this fantastic proposal came his way. We were quickly removed from that couple's list, because we never sent a card (or letter) in return.
Most of the newsletters we receive are generous in spirit. The humor is self-deprecating, the tone is not boastful.  They account essential family milestones, ages and interests of the kids, and a few funny incidents.  Most of all, they refresh old friendships.  They help maintain a real connection with those we can't see on a regular basis.  I enjoy and look forward to letters like these.  I would worry if a regular writer didn't send one. Was their year too dire for words? Or was our letter considered inappropriate? Did we sound smug, self-aggrandizing, too pleased with ourselves? Or, on the other hand, were we too pitiful or too boring for further correspondence?
In my first letter, I was hesitant to include anything of substance about my husband or me. He went to work and I moved the family's stuff around. I was more comfortable writing about our daughter and dog.  The next year was filled with bad news, which I tried to report in a comical way.  Following that, there was a frightening medical diagnosis that nevertheless ended on a good note.  This year has had fewer obviously low points, so once again I'm wary of sounding boastful. H doesn't help. Each December, when I show him my first draft, he asks: Should we really send this? I know exactly how he feels, but I still get angry because I spent two days writing it.
Will it go out this year?  Probably.  But I'm not sure.  Still pondering the question of the holiday newsletter.  Maybe just one more revision.
Meanwhile, our family welcomes your letters!
Happy Holidays to All!