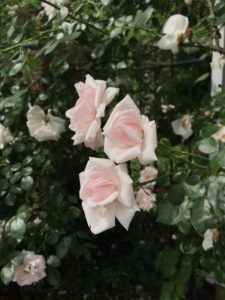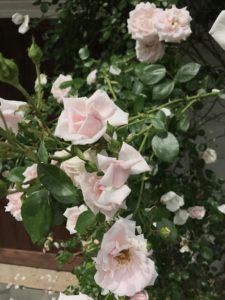 It's been nine years since we transformed our concrete dessert of a back yard into a place where roses grow.  Every May, the vines burst forth in riotous profusion.  This spring's long cold spell delayed peak bloom for about two weeks, but once the buds began opening, the flowers were as spectacular as ever.  The pale pink climbing roses on our garage trellis are subtle in color but especially flamboyant in abundance.  After their fabulous spring fiesta, they continue to bloom, but only sparingly, throughout the summer and into the chilly days of fall.  Even early December sees  a few persistent blossoms.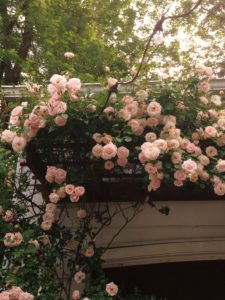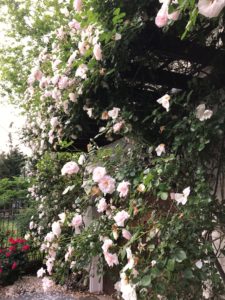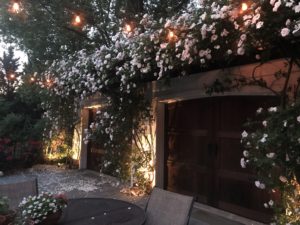 The red double knock-outs along the fence stage their main event in May, as well.  They bloom throughout the summer and fall, with greater frequency than the climbers.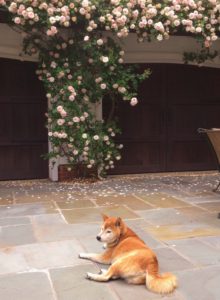 Kiko's good looks merit a handsome backdrop, but he cares little about the appearance of his surroundings.  This is, of course, one reason dogs are so well-loved by their people.  A dog is happy to be his human's sweet prince, whether in a shack or a mansion.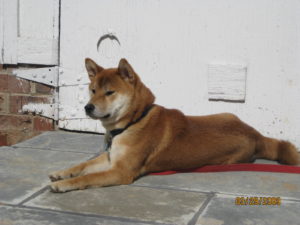 The battered appearance of our old garage doors didn't hurt Kiko's self-image.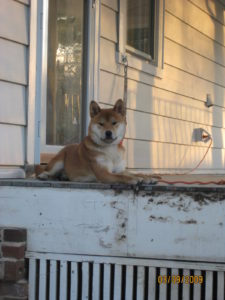 He could sit, proud and regal, on our old porch, even during the squalor of demolition.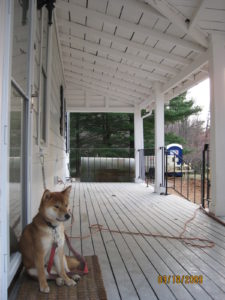 But he hated the constant presence of a tether.  No matter how long, it typically stopped short of where he wanted to be. We revamped our porch and back yard not only to add some beauty to our little corner of the world, but also to give our beloved animal a space in which he could roam freely.  Our bounty of roses means even more to me because it represents the process that brought Kiko a greater measure of liberty.  My pursuit of happiness is tethered to his.  Everyone who shares a life and home with a dog recognizes this truth. 
May the roses keep blooming.  May my little dog continue to ramble from sun to shade, from squirrel to fox watching, in his pleasant domain. 
For earlier posts on our back yard transformation, see Up From the Concrete, Roses, May 12, 2012; and This is the Way the Roses Grew (And a Daughter, Too) Parts I, II and III, June 2015.