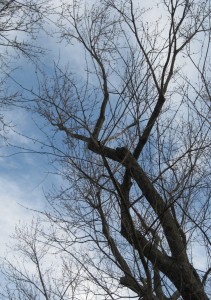 Today, we are likely to see people walking around with a messy black smudge on their foreheads. Some may be sharply dressed in business attire, which makes the apparent dirt on their faces look all the more incongruous. My husband has remarked that these people strike him as somewhat irritatingly smug. He thinks they broadcast their piety too overtly: I went to church today, on a weekday. Aren't I good? Aren't I saintly? It wouldn't hurt you to go to church, too. To me, they are brave. They took time off work for their faith, and they are willing to bear a visible sign of it in a secular world.
Here, then, is why I will go to church this Ash Wednesday (although our service is at night, and unless we need milk or some other grocery staple, I will head straight home afterwards.) 
                You are dust, and to dust you shall return. 
                –Genesis 3:19
Ash Wednesday is a reminder of what would have been, without the transforming salvation of Christ. God uttered the words above, angrily, to Adam and Eve, just before he booted them out of Eden, the garden of paradise that could have been their eternal, blissful home. Because they disobeyed God, they forfeited a life of ease and joy. They were sent out into desolation, forced to eke out a living through toil and pain.
If you grew up going to Sunday School, you've heard the story many times. (And if you haven't, I hope you won't let a discomfort with the creation story get in the way.) Maybe you've wondered: What were they thinking? The first couple had it great: full-time leisure, full-time luxury. Their every day made a vacation at one of the world's supreme resorts pale in comparison. The trees dripped with delicious treats, theirs for the easy picking. All except for the apples on one tree.
There was a serpent in the garden. He was wise and wily, and he knew about that whole free-will thing. Indeed, he owed his existence to it. He looked with contempt upon the innocent contentment of the two humans. He realized the fragility of the thread that kept them in their lovely home. It wasn't long before the serpent made his move. Appealing to Eve's pride, he offered an opportunity for further greatness. Knowledge equal to God's was at her fingertips, but God selfishly chose to keep this power to himself. She deserved better, didn't she? So Eve ate from the tree. Adam, who apparently needed no convincing, munched along complacently.
Paradise was lost, for the taste of a forbidden fruit. We may think we would have known better. But probably not. Like Eve, we might have fallen for the pride trap. Or maybe, like Adam, we might have given very little thought to the matter: If Eve says it's fine, it must be. (I envision one of David Letterman's goofy expressions on Adam's face.) In simply thinking we would have known better, it's evident that we would not have. With free will comes the ability to make the wrong choice, a choice we tend to exercise repeatedly. Like Adam and Eve, if left to our own devices, our fate would be to wander in the dust. 
Repent and believe the good news!
–Mark 1: 15
But we are not abandoned, without hope, in a barren land. Paradise is still within our grasp. On Ash Wednesday, we confront the grim reality of our sin, of our tendency toward pride and selfishness. On our own, we could never be good enough to work our way back to Eden. But we don't have to be. Jesus took our sins upon himself. As the spotless Lamb of God, the perfect sacrifice, he wiped our messy slates clean.
To accept Christ's free gift of salvation, we need to acknowledge our wrongheadedness and to ask forgiveness. God's forgiveness is granted for our willingness to repent; it's not contingent on our going forward without a misstep. We are human; we will stumble and lose our way at times. We cannot be perfect in this lifetime, but we can desire to achieve perfection.
The ashes are marked on the forehead in the shape of a cross, the instrument of death that became the tree of life. Christ's good news saves us from a future of ashy, dusty nothingness, replacing it with the promise of unimaginable joy in a paradise everlasting. We can't even comprehend unending joy; our flawed human nature prevents us. But we will understand it fully, and magnificently, one day, I am convinced.
Today I saw the first few green buds emerging from the gray bleakness of our yard, in a wild tangle of honeysuckle. This seems very fitting, on Ash Wednesday, when we celebrate the life that comes of death, of the new birth offered to us without price. 
God demonstrates his own love for us in this:  While we  were  still sinners, Christ died for us.
–Romans 5: 6-8