It's the seventh of January, 2013.  Epiphany has been celebrated; the Christmas season is officially over.  The electric candles in our windows have clicked on and off for the last time this winter. Tonight's early January dusk will have to stand on its own; there will be no soothing, quasi-magical boost of simulated candlelight. We are back in ordinary time. Yet again, the days sped by too quickly.
This is the dreaded week of my Christmas clean-up.   I began the day by wandering remorsefully through the house, wishing we hadn't put up six trees, wondering where to start the process of un-decoration. As always, I will resolve this year, for a change, to find the right boxes for the packing-up.  When I can't manage that, I will vow to locate an actual working marker to label the boxes.  When even that proves undoable, I will tell myself that I'll remember what I put where.  Eleven months from now, I will be standing in our frigid attic, muddled and confused.  The box that professes to contain miniature trees will be full of stockings and bead garlands.  Where did the box of white lights go this time?  Some crucial item, usually one of our star tree-toppers, will have vanished completely.
But it's a new year, and it's time to move on. The trappings of the holiday season have undergone an unmistakable, unsavory shift in essence. Five weeks ago, they were the stuff of joy and hope. Now they are clutter. The blue spruce is droopy and dry, its needles as sharp as steel.
I look forward, past the mess, envisioning the uncluttered, restful simplicity of mid-January.  It's an illusion, a vanishing mirage, of course.  With a vengeance, this first month bursts with the business of everyday life.  A glance at the calendar reveals an exhausting proliferation of church meetings, school volunteer meetings and appointments with doctors.  All that and all the Christmas debris, still here.
Yet the reality of the new year brings a clearer, if starker, light.  It gladdens my heart to think that the shortest, darkest day of the year has come and gone. The earth is turning, tilting toward spring. The leaves of the rhododendrons in our back garden shrivel in the cold, but their blooms are set, ready and waiting.  Nature's optimism and foresight promises renewal.  It really is time to move on.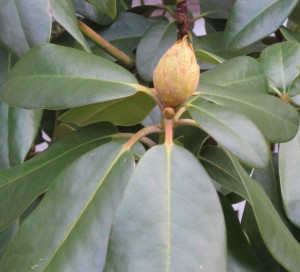 A rhododendron bud stands by for spring.