Our home phone was out of order for nearly a week recently.  I missed the landline only for daily talks with my mother in Atlanta.  What a golden silence ensued, with the absence of calls from Unknown and Unavailable.  A mute phone, much like a sleeping child, can be such a pleasure.  I could expect no appeals for questionable charities, no reminders to schedule unneccesary service for this or that appliance, no giddy voices informing me of a life-changing message from my carpet cleaning company or that I'd won a Caribbean  cruise.  No hale and hearty howdy-dos, no manglings of my first name.  No calls requesting "The Lady of the House."  She's not here, Sir, but I can put you on with the Lady of the Lake. 
All too soon, and all too often, the phone was ringing again, the same unwelcome numbers popping up.  What to do?  Try to ignore the ringing, let the machine pick up.  Hear our greeting, hear the caller click off, followed by a loud dial tone.  No message, of course.  Or quickly answer the phone and just as quickly hang up.  Or pick up the receiver, say nothing, put it down, walk away.  None of these approaches offers much satisfaction, and each time, the call is a distraction.  Annoyance intensifies.   
It got me reminiscing.  During my college days at UGA, a common practice to avoid studying was the group prank phone call.  Hanging around the dorm on a Tuesday night, we'd look through the Freshman register, pick out a cute unknown guy, call him up and make outlandish conversation.  Typically the boy on the other end was happily willing to play the game, intrigued by possible evidence of female interest.  This was, of course, back in the day of the campus phone system, with no caller ID.  Another wholesome pastime made obsolete by cell phones.  We were often on the receiving end of such calls, and we were more than ready.  My friends and I were creative.  We were well-versed in winging it.  We were experts in nonsensical, playfully belligerent banter.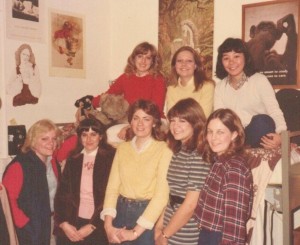 In my Rutherford Hall dorm room, with resident partners in crime.  The black wall-mounted rotary phone at the left was a source of much amusement.   
Maybe it's time to turn the tables on unwanted callers.  It wouldn't be as much fun as in the old days.  But nothing now is as much fun as it was back then. 
What to do?  Telemarketers make unwelcome demands on our time.  Why not make unwelcome demands on their time? 
Telemarketers' questions are unfailingly annoying.  Why not annoy them right back?  Perhaps with a survey.  Surveys are ubiquitous, and almost always bothersome.  Express interest in a product online, and a survey pops up.  Buy an item, and the surveys never cease.  Schedule a service call for your disabled washer, and you'll soon be pestered by recordings inquiring about your degree of satisfaction in scheduling the appointment.  If you're lucky enough to get the appliance fixed, you'll be endlessly harassed to rate the technician's promptness, politeness and level of expertise.  After our phone service was restored, I received multiple entreaties on both landline and cell phone: Tell us how we did! How can we serve you better?  By never calling again, that's how.   If you were doing really well, I wouldn't have needed to call in the first place.   
Another ongoing annoyance is the constant volley of ludicrous comments and claims in this Presidential primary season.  What could be more annoying to callers than my asking them to participate in a brief political survey?  It's doubtful they'd listen.  They'd hang up on me.  Imagine that!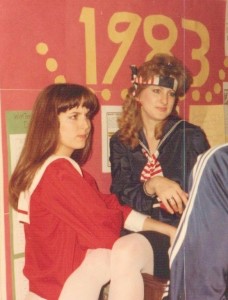 Another photo from the old days. My roommate Pam and I at a Rutherford-Myers red, white and blue party, probably about to respond critically to a remark made by track-suited fellow student. 
Back then, we were always honing the craft of repartee. 
Next up:   The Survey